Colorado Player Has Rio Rancho Family Ties
US Senior Amateur Day 1 Leader Hot in 2018 NM Competition
Day 2 Update: Greg Condon posted an even-par 72 (36-36) to finish stroke play at 5-under, one shot ahead of Jeff Wilson of Fairfield, Calif., at 4-under Saturday and 1-under today, who was still on the course at 1:45 p.m. MDT playing his 16th hole of the day.
Condon's second-day performance, with two bogeys offset by two birdies, guarantees he will advance to the match-play portion of the competition on Monday, as one of the lowest seeds to be paired with one of the highest seeds in the 64-player field.
Greg Condon finished Day 1 of the US Senior Amateur as low medalist, firing a 5-under 67 to lead the field of 152 players into the second day of stroke play before four grueling days of match play begins on Monday.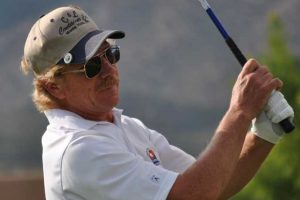 Condon, of Monte Vista, Colo., qualified out of Paa-Ko Ridge Golf Club. The other local qualifier, Jack Slayton of Albuquerque, finished Day 1 at T109, 7-over.
After a second day of stroke play on Sunday, the low 64 players begin match play Monday at the U.S. Senior Amateur venue, Eugene Country Club in Eugene, Ore. The event is open to amateur players 55 and older.
Condon has been on a hot streak in New Mexico recently. He ran away with the Paa-Ko Ridge qualifier in late July, the only player that day to post an under-par score at 3-under. He narrowly missed qualifying for the U.S. Amateur in July, and he finished T3 in the Sun Country Amateur Golf Association's New Mexico-West Texas Championship in June.
Condon is the brother of Cynthia Jordan, a Griegos Elementary School teacher in Albuquerque, who is married to Robert Jordan of Rio Rancho, a member of the board of directors of the Players Club at Santa Ana Golf Club.
Condon is fondly remembered at Santa Ana for bringing the staff there home-grown potatoes during visits to Santa Ana, according to Roger Martinez, Santa Ana's former director of golf, who recently began his new position as director of golf operations at the Wildhorse Golf Club in Denton, Texas.
Dan Vukelich, editor of New Mexico Golf News, is a member of the Golf Writers Association of America and the Golf Travel Writers of America. Reach him at dan@newmexicogolfnews.com