Nothing Better than a Laid-back Club with a Great Price
On a previous trip to South Carolina to review Wild Dunes Golf Resort on the Isle of Palms north of Charleston, I neglected to mention of sweet little semi-private course, Coosaw Creek Country Club, in North Charleston.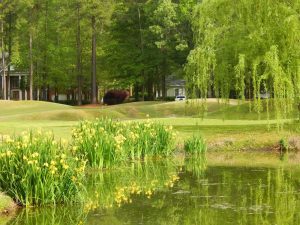 Coosaw Creek is my kind of country club. First they let riff raff like me on. Second, it's friendly, laid back and relaxed — so much so that, I swear, had I simply loaded my clubs onto one of the carts at the staging area and headed for the first tee without talking to anyone, chances are the starter would have simply waved as I drove by.
On the drive in from the guard shack, I could see that Coosaw Creek is a tight little track that winds through its surrounding residential community, with mature trees lining the course that largely form its character and define its shot values. When I learned that Arthur Hills had designed it in 1993, I knew I was in for a treat.
Since I was a single and no one else was on the tee sheet, the folks in the golf shop said to head out alone. I played a match between Mr. Titleist and Mr. Srixon, basically lollygagging around the course. I noted from the many swing sets and toys in the back yards this was a families-with-kids neighborhood, as opposed to a second-home crowd.
Another single caught up to me on the 15th hole and we played in together. Turns out he and his wife were brand-new transplants from Minnesota who had been enticed by the same relaxed air of their new club.
At 6,600 yards from the tips, Coosaw Creek is hardly a bomb-and-gouge course — mostly because most people not named Bubba Watson can't bend a driver as hard as you'd need to cut the corners.
Because of the narrow fairways, Coosaw Creek is all about shot placement off the tee box. Playing from the blended blue-white men's tees, I played most of its 6,300-yard length hitting long irons and hybrids off the tee. Although I'm not a long hitter, I found myself short of the green in two on only a few of the par 4s.
At $79 for a weekend round ($69 on weekdays) Coosaw Creek gives you plenty of value for the money. Most buddy-trip golfers know that on getaways to big-dollar destinations, there's almost always a practice round on Arrival Day or a final round on Getaway Day. For anyone looking to play the big-name courses around Charleston, Coosaw Creek is a strong candidate for that extra round.
Dan Vukelich, former editor of Sun Country Golf magazine, in Albuquerque, N.M., is the editor of ABQ Free Press, an alternative newspaper. He is a member of the Golf Writers Association of America and the Golf Travel Writers Association. Reach him at dan@freeabq.com.