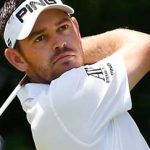 A slew of professional golfers have reported bizarre injuries that have kept them from competing. The latest is Louis Oosthuizen, who got his fingers caught in a baggage cart at an airport.
"The body feels great but I had a different incident this week with jamming my fingers in trolleys at the airport," Oosthuizen said at a news conference.
"This morning is even worse than it was yesterday, so I tried to grip a golf club but there's no way I can go to my grip position."
Others bizarrely kept from competing include Padraig Harrington, Dustin Johnson, Jamie Donaldson, Brandt Snedeker, Jesper Parnevick and John Daly, to name a few. The U.K. golf site, Today's Golfer, has the story.