Greenville-Spartanburg, Columbia Offerings
When you live in the West like I do, a trip "Back East" entails almost a day of travel, thanks few nonstops, airport layovers and the time change, so my tendency is to combine several destinations into one itinerary, if possible.
Such was the case for a trip to Southern Pines for the Golf Writers Association of America annual championship last spring, where I met a group of writers headed south to cover the Masters. The result was a visit to Greenville-Spartanburg, S.C., with a side trip to Columbia, the capital of South Carolina.
While the best known golf in South Carolina is at Hilton Head and Kiawah Island, golf inland in the Palmetto State is terrific and, at less than $50 a for a prime tee time, a heckuva bargain.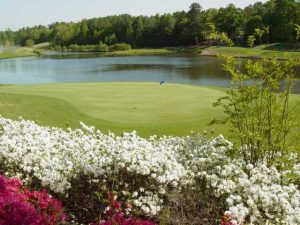 The Preserve at Verdae Golf Course in Greenville has hosted several Web.com events since it opened in 1989. It's a hilly test with wide fairways that require strategy on the tee box so you don't find yourself blocked by the treeline on your approach.
In some cases, driver isn't the best choice for the tee shot. A good example is the severely downhill No. 8, where an iron or hybrid hit 200 yards off the tee easily can roll 100 yards. A measure of The Preserve's difficulty is the 138 slope from the back tees, which should tell you that despite its relatively short 7,021-yard length, it's no pushover.
Booking Golf Up Country

Ricky Saucier's Golf Packages of South Carolina books golf packages throughout most regions of South Carolina, including the Up Country area.
Ricky has relationships with scores of courses from Myrtle Beach to Charleston, including Hilton Head and Kiawah Island.
His website is www.golfpackagesofsc.com and his phone number is (888) 501-0954.
The Preserve is literally across the parking lot from the Embassy Suites Hotel, which is a popular choice for families and school outings, thanks to a terrific breakfast buffet, which includes eggs cooked to order. Adults will appreciate the daily manager's reception, which includes free drinks and snacks.
Greenville-Spartanburg is a happening place thanks to the location of some major manufacturing facilities, including a massive BMW auto plant. The result is a thriving economy that becomes apparent to the casual observer just by driving down the main drag. Not every town that has a Maserati-Lotus dealer on its local auto dealers' row.
Ten miles outside of Greenville in Duncan, S.C., you'll find River Falls Plantation, a Gary Player signature design that runs along the South Tyger River and climbs and descends over some serious elevation changes.
The clubhouse has a terrific grill and a friendly staff and, overall, the vibe at River Falls is laid back and relaxed, even bucolic, the kind of place of a hot day where you expect someone to emerge from the clubhouse with a couple of cool lemonades. River Falls is a golf course where you can feel the stress melting away. A rack rate greens fee of less than $50 sure helps.

In Chapin, S.C., Timberlake Country Club is the only golf course along the shore of Lake Murray a massive recreational lake. Some important is business from boaters that Timberlake will meet players at the dock with a golf cart ready to take them to the first tee.
Timberlake has some notable holes, among them the Par 3 fourth hole, defended by a small pond, and No. 18, a strong finishing Par 4 that challenges you to clear a lake inlet on the approach, or bail out left and try to get up and down for par.
Dan Vukelich, former editor of Sun Country Golf magazine, in Albuquerque, N.M., is the editor of ABQ Free Press, an alternative newspaper. He is a member of the Golf Writers Association of America and the Golf Travel Writers Association. Reach him at dan@freeabq.com.