Not as Pricey but Plenty of Top-notch Golf
During a normal winter, let's face it, there really are only a handful of reliably warm-weather winter golf locales in the Lower 48: Phoenix-Scottsdale, Southern California, Florida, the Gulf Coast, and, in a good year, Southern Nevada.
All have their own attributes, cultures and price points, but this tale of winter golf hope and promise is about a destination largely missing from the national conversation – Tucson, Ariz.
Just an hour and 40 minutes south of Phoenix Sky Harbor Airport on Interstate 10, Tucson offers a decidedly more laid-back vibe than its glitzier, gold-plated cousin to the north, yet just as much, if not more, golf dollar for dollar.
Nearly 1,600 feet higher than Scottsdale, Tucson tends to be 10 to 20 degrees cooler both in summer and winter. But be forewarned: To experience the best of Tucson-area golf, be prepared for some long drives from your hotel or host resort, thanks to the spread-out nature of the Tucson Metro area – which includes the suburb of Marana to the north and could justifiably include the town of Tubac, south on Interstate 19, down toward Mexico way.
That being said, here are some recommendations for value golf for snowbirds, not including the best-known high-end Tucson resorts – Dove Mountain, Starr Pass and Loews Ventana Canyon – all of which are worth the tariff if you have the green.
Casino del Sol Resort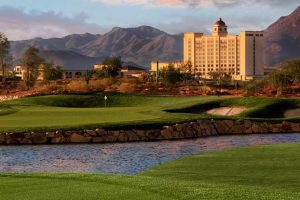 Casino del Sol sits on the on the southwest edge Tucson on Pascua Yaqui Pueblo land, which makes it handy to Tucson International Airport, about 15 minutes to the east. The resort's latest amenity is a Notah Begay III signature design, Sewailo Golf Club, which plays 7,400 yards from the tips.
The name Sewailo means "Flowerland" in the Yaqui language – which is fitting because rather than native desert, the course's margins are lined with some 30,000 flowering plants that bloom throughout the year.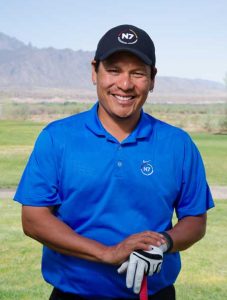 Begay, the only full-blooded Native American PGA Tour winner, now performing on-course commentary for the Golf Channel, along with architect Ty Butler, moved massive amounts of soil to give elevation to what once was a glass-flat desert of creosote and cactus. The earthmoving created playability, visual interest and enough slope so that Sewailo's creeks have adequate flow to serve the course's 14 acres of lakes and its showy Donald Trump-style flower-framed waterfall behind the 18th green.
Sewailo's golf rates have come down from the $129 peak rate announced when the course opened in 2013. Peak season greens fees for weekend play in early winter come in at an incredibly affordable $69. Better yet, the resort offers a smoking deal for a $665 three-night stay-and-play package that includes two rounds per day – that's per room, not per person – for the upcoming Thanksgiving weekend.
Arizona National Golf Club
If website photos of this OB Sports-managed golf course look familiar, that's because it was the site of some of the USGA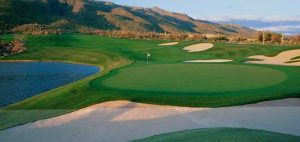 Qualifier scenes in the movie "Tin Cup" where Roy McIlroy's (Kevin Costner's) fill-in caddie stumbles through the torrid heat of a summer round.
Designer Robert Trent Jones Jr. made deft use of the jagged boulders and rock outcroppings of the course's setting at the base of the Santa Catalina Mountains. A round at Arizona National on Thanksgiving weekend can be had for just $63.
Westin La Paloma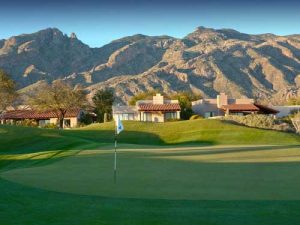 Let's just say, you don't want to walk this mountainous throwback to the days when Jack Nicklaus set out to … hmmm…. punish people who hadn't yet won 17 majors – not counting the 18th he eventually won two years later. OK, that's harsh. But if you play the right tees on this rollercoaster, you won't be disappointed by one of the Golden Bear's earliest signature designs – 27 holes with elevation changes that would make a mountain goat pant from exhaustion.
Nicklaus' target-golf layout requires lots of nerve and plenty of golf balls, but a check of the resort's website shows an affordable rate of $149 for peak weekend play in late November (Thanksgiving was fully booked by Labor Day).
Tubac Golf Resort
Remember when the part in the movie when "Tin Cup" Roy McIlroy breaks everything but his 7-iron and Romeo (Cheech Marin) quits as his caddie? That scene was shot in the shade of the third tee of Tubac Golf Resort's Rancho Nine. One look at the Tubac Resort website and you'll see what I mean.
   And the scene where Roy, as caddie, bets David Simms (Don Johnson) he can "go for it" and clear the water hazard from 230 yards? That's the 16th hole on the Rancho nine at Tubac. The movie's low point, the "Who can hit it farthest with a 7-iron" bet, happens in Tubac's parking lot. This is cool stuff.
It's a ways from Tucson, but the Town of Tubac is a homey, quirky, artsy town 30 minutes south of Tucson on I-19, almost to the Mexican border. The resort's website offers a $223 hacienda room stay-and-play per-night rate on Thanksgiving weekend.
Randolph Park
Anyone looking to retire to Arizona should first play Randolph Park, a Tucson municipal golf complex that will change your mind about the wisdom of retiring to the pricier Phoenix/Sun City/Peoria/Mesa Metroplex.
   Truth be told, as much as I love the Valley of the Sun, Phoenix has only one muni – Papago Golf Course – comparable in quality to these two affordable side-by-side beauties in the center of Tucson.
The Randolph Park golf complex – the Randolph North Golf Course and the Randolph Dell Urich Golf Course – both served by the same earthy, vintage clubhouse – offer plenty of elevation change but without the sense of a mountain looming over you.
Both are parkland in style. The heavily tree-lined Randolph Park North, which opened in 1925, has been the site of multiple PGA and LPGA Tour events. Randolph Dell Urich, redesigned in 1996 on the site of the old Randolph South course, is more open, which means its east-facing holes offer terrific view of the aforementioned Santa Catalina Mountains.
Now, here comes the best part: the price.
Although anything around Thanksgiving was booked when I checked the website on Labor Day, a non-resident could ride Randolph Park for $36 for 18 holes in the last weekend in October (the furthest out the booking engine would allow that day). The tariff for Randolph Dell Urich for the same weekend was a shocking – $36.
To quote Bill Murray in "Ghostbusters" – "I love this town."
Dan Vukelich, editor of ABQ Free Press, is the former editor of Sun Country Golf, the official magazine of the Sun Country Amateur Golf Association of New Mexico.Reach him at dan@newmexicogolfnews.com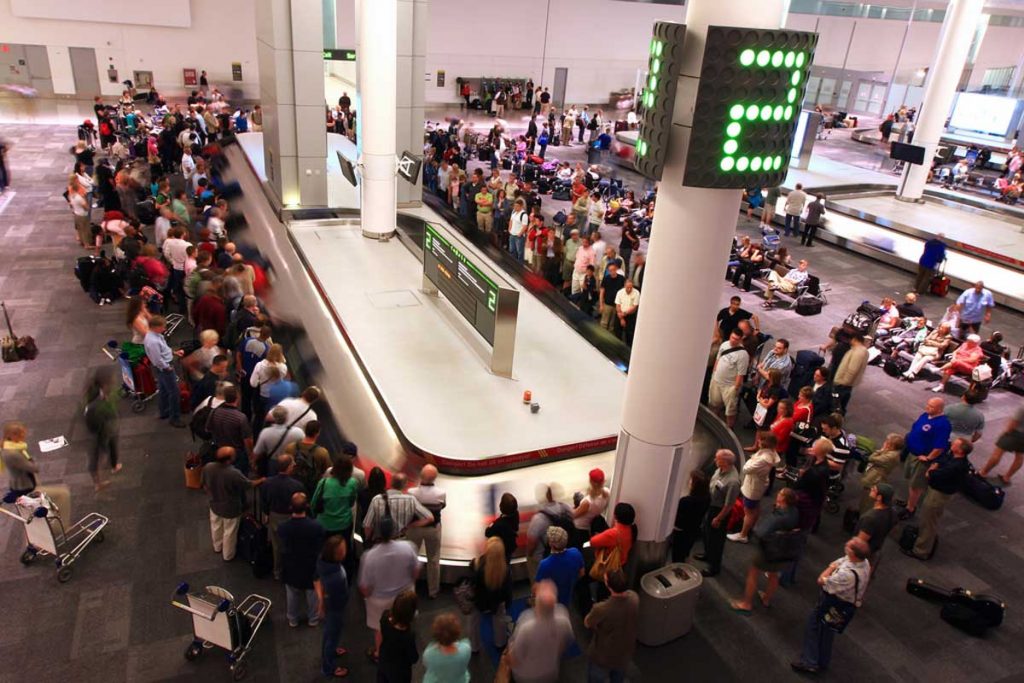 Skip the Ticket Counter, Go Straight to Plane
If you're tired of schlepping golf clubs through airports, rental-car centers and hotel lobbies, help has finally arrived.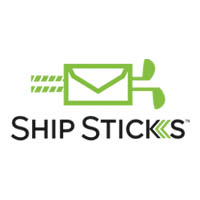 ShipSticks is a rapidly growing company that ships golf clubs door to door from your home or office directly to a golf course, hotel, resort or any other address you designate.
Cost? Details in a moment, but the short answer is: less than what you'd pay to ship your clubs yourself via UPS or FedEx, and more than what most airlines charge for a first checked bag. The true value lies in the freedom to waltz through airports with carry-on luggage only.
ShipSticks has bulk rates with both FedEx and UPS. Both services would require you or me to box our clubs, insist on selling us a cardboard box or charge us extra for shipping them without a box. But for a ShipSticks shipment, they'll accept an unboxed, hard-sided golf travel case or even the wheeled version of a soft Club Glove travel cover.
If want or need the protection of a cardboard box, ShipSticks will give you one for free. While scheduling a trip to Baltimore, a company rep looked up my ZIP Code and suggested I pick up a box at Albuquerque Country Club, one of many clubs with whom they have a relationship.
ShipSticks scheduled a firm UPS pickup at my house. The day before I left Albuquerque I received an email confirmation that my clubs had arrived at my cousin's condo in the Inner Harbor. On the morning of my flight, I skipped the ticket counter. At the other end, I walked past the baggage claim without stopping and enjoyed a hassle-free ride on Baltimore's light rail, a carry-on bag slung over my shoulder.
While Southwest Airlines still has no first- or second-bag fees, most airlines charge $20 to $33 for the first bag, and $20 to $35 for the second bag. A third bag can set you back anywhere from $50 to $150. By contrast, ShipSticks charges $39 to $59 one-way for four-day service between most cities in the continental United States. For a lot more money, they'll ship golf clubs overnight.
A recent quote: Albuquerque to TPC Scottsdale, $39.99 each way via three-day ground, or $99.99 each way overnight.
The company offers rock-solid pickup and delivery dates, plus online tracking. All rates include $1,000 in coverage for loss or damage, and $200 in free "consequential insurance" – a fancy term that means they'll cover the cost of rental clubs if your bag arrives late.
Keep that in mind the next time you need to bug out for the nearest sun-soaked fairway.
Dan Vukelich is editor of NewMexicoGolfNews.com. Reach him at dan@newmexicogolfnews.com