(CARTHAGE, N.C.) May 23, 2012 — While playing my way through Virginia and North Carolina recently, I was directed from Pinehurst up the road toward Carthage, N.C., along U.S. 15/501 to the Little River Golf Resort – and what a find this gem of a place is!
Call it the working man's Pinehurst with a friendly, affordable daily-fee vibe. Little River Golf Resort features 18 holes of firm, fast greens and fairways, a lively alehouse and refreshingly welcoming staff.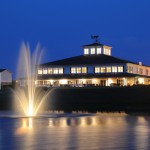 To prove my point, who did I run into on the course but Rob Henry, my caddie from Pinehurst No. 2 from the day before – which says a lot about the place. Play where the caddies play, I say.
You can't go wrong with a resort that posts an aerial skydiving team's video of themselves jumping out of planes over the golf course and landing on the practice green, set to head-banging music that would make me want to jump out of a plane, too.
But to the heart of the matter, this Dan Maples-designed parkland-style golf course is a relaxing test, where the relative openness of the front nine sets up the more picturesque and challenging back nine. Immaculate and fast greens reward great putting. Built in 1996, the course is a mature routing across 200 feet of elevation change.
General Manager and PGA Professional Marvin Waters, local boy returned home from Palm Beach a few years ago, does a great job getting large groups on special outings, buddies' stay-and-play groups and individual daily-fee players around Little River at a good clip.
The smiles must be contagious. On an incredibly busy Saturday, I did not run into single Little River staff member who did not smile and greet me from 10 to 15 feet away.
The lodging is virtually new, spotlessly clean and featuring full-kitchen, two-bedroom, two-bath suites that contain four queen-size beds  — leaving plenty of room for guys on the low-end of the buddy-trip totem pole to sack out in available roll-away beds.
The clubhouse's Derby's Ale House is cozy and unpretentious and serves up an affordable menu. A recent weekend-night special got me a 16-ounce Yuengling draft, cheeseburger and fries for $9.50. No wonder caddies come here. The adjoining banquet hall is a hub of wedding activity, due to proximity to nearby Fort Bragg.
High-season stay-play packages at Little River go for $369 for two nights. That includes unlimited Little River golf with cart, breakfast, range balls, drink and gift vouchers, plus an 18-hole round off-property at one of several nearby daily-fee courses. Rates are based on quad occupancy.
Summer packages start at $219. Low-season golf only can hit $45 while a high-season round can reach $145.
Some of my golf writer brethren have been through Little River Golf & Resort in the past and had glowing things to say. I'll say I have not seen a better mix of price,  courtesy and accommodations in any part of the country in a long time. Little River ranks right up there with other buddies' trip locales I've visited. It's a no-brainer for anyone who wants to take a break from the high-dollar golf down the road in Pinehurst.
— Dan Vukelich