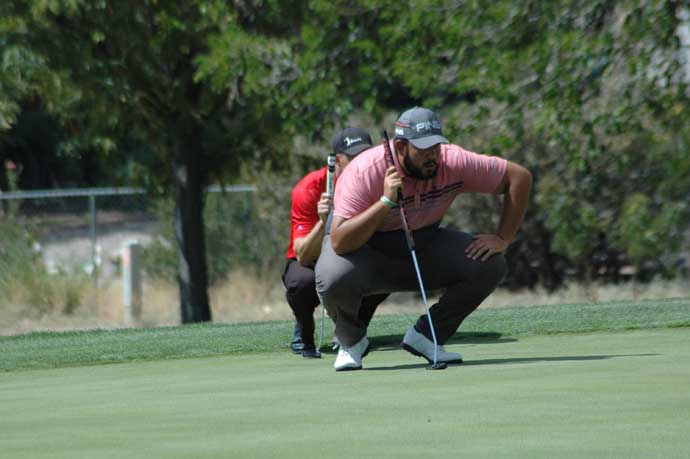 NM Open at Paradise Hills Tees off with Fair Skies, Light Winds
Three players tied for the lead after Day One at the Paradise Hills NM Open, posting 5-under 65s on Tuesday to stand atop a packed leaderboard.
Sharing the lead going into Day Two of the three-day event were: Brandon Bauman of Las Vegas, Nev.; Edward Olson of Aptos, Calif.; and Andrew Presley of Fort Worth, Texas.
The three held a one-stroke lead on six players who shot 4-under. They were: Ian Ansett of Canyon, Texas; Mark Baldwin of Mesa, Ariz.; Juan Benitez of Puebla, Texas; Ian Snyman of Denton, Texas; Jeff Nichols of Mesa, Ariz.; and Jose Toledo of Spring, Texas.
Another 10 players were tied at T10 at 3-under, including ex-Lobo Wil Collins and Jere Pelletier of El Paso Country Club..
Of 47 players from New Mexico and West Texas in the event, notable local players were Sean Carlon, former champion Tim Madigan, and defending 2018 champion Sam Saunders – all at T21 at 2-under. David Muttitt of Los Altos Golf Course was T34 at 1-under.
Another former NM Open champion, Notah Begay III, a four-time PGA Tour winner and now a commentator for the Golf Channel, finished at 1-over for a T54, along with Justin Aragon of Las Vegas, N.M., and Gerome Espinoza of Paradise Hills. Former PGA Tour player D.J. Brigman of Albuquerque finished at 3-over for a T94.
Devin Miertschin of El Paso finished at even par for a T42 along with Marty Sanchez of Santa Fe.
For full Day One results at the NM Open click here.
For Day Two pairings click here.
In other local golf news:
The University of New Mexico Lobo women's golf team wrapped up the 2019 Branch Law Firm/Dick McGuire Invitational on Tuesday at the UNM Championship Golf Course. Junior Caroline Jansson and freshman Napat "Jenny" Lertsadwattana led the Lobos through the final round, finishing both with a three-round individual score of 217 at 1-over to tie for 14th overall.
The Lobos finished ninth among a field that included a pair of 2019 NCAA Women's Golf Championship participants Kent State and Indiana, as well as four Mountain West squads.
Elsewhere: Former Lobo Gustavo Morantes has been named assistant coach of The University of New Mexico Lobo men's golf program, head coach Glen Millican announced. Morantes served as a key member of the Lobo men's golf team from 2014-18 where he represented UNM in 42 events across four seasons while registering 18 eagles, third-most in the program's history.