Nicklaus Tested by Beautiful, Severe Baja Terrain
"Have you ever walked the golf course," I asked Quivira Golf Club Los Cabos' director of golf, Antonio Reynante.
"My assistants and I tried it once, but we couldn't get past Number 6," the fit-looking 35-year-old former mini-tour player told me. "We had to call the shop to come out and take us back in golf carts."
It wasn't an indictment of his staff's physical conditioning so much as a testament to architect Jack Nicklaus' ability to design a golf course that starts at 30 feet above sea level and climbs to nearly 400.
"I thought it was a very challenging yet spectacular piece of property," Nicklaus said when the course opened in 2014.
"I hope most people will think it's the most spectacular golf course and the best golf course they have ever seen. And yes, some other people will say, "You have got to be kidding."
That's an honest appraisal. A cynic might say that Quivira is just a clown's mouth or windmill away from goofy golf, but in my mind Nicklaus cast aside his usual highly engineered approach; instead, he let Quivira's landscape dictate an appealing compromise between playability for the vacationing player, visual impact and sustainability.
The result is a track that Golf magazine named "Best New International Course" in 2014. In 2016, Golf Digest gave it the magazine's Editor's Choice award for best golf resort in Mexico or Central America.
The Challenge
Part of The Golden Bear's solution to the challenging elevation changes at Quivira is the longest cart path I've ever ridden – 1,500 meters, or just shy of a mile – switch-backing its way 250 vertical feet along the flank of a massive dune-topped granite ridge rising above the ocean.
The ride is both exhilarating and relaxing, much like the first long ascent on an amusement park roller coaster. As you climb between Nos. 4 and 5, the views of the receding golf shop, beach, and the occasional humpback whale breaching well beyond the surf break are reasons enough to pat yourself on the back for choosing Cabo.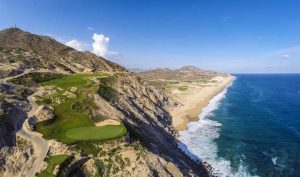 Cresting the last switchback to the No. 5 tee box brings a truly vertigo-inducing view – the kind that snaps your senses to full alert, makes the hairs on the back of your neck stand up, and announces in no uncertain terms that, yes, your golf vacation has finally begun.
To the left: the Pacific Ocean and a sheer drop of 280 feet. To the right: the ridge rising higher still. To the front: a narrow ribbon of grass leading to an unseen green dangling some 100 feet below the layup spot in the fairway. The putting surface itself is perched 125 feet above the surf.
It's not often I'm thankful to see a "Cart paths only this hole" sign, but this was one of those times. The thought of our cart launching us a la "Thelma and Louise" into the ocean fleetingly crossed my mind.
The Par 3 6th is no less spectacular. I'll let the course description do the talking: "The tee shot must find and hold a long narrow green that drops off to a cavernous bunker and oblivion on the left."
"Oblivion" would be the Pacific. From the back tee box, the putting surface is but a speck of green 180 yards away, sky blue above, ocean blue to the left, granite brown to the right.
Multiple Personalities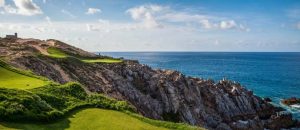 Once the course turns inland, the rest of Quivira's holes range in personality from those you'd find on the sandy links courses of Scotland to those you'd find in Scottsdale or tucked in the folds of the hills and ravines of Northern California.
What you'll likely not find elsewhere, though, are Quivira's four staffed, on-course food and beverage stations, where complimentary beer, wine, tacos and other hand-held fare are freely offered. The halfway house, called the Oasis, features regional cuisine and a full tequila bar.
Quivira is part of the Pueblo Bonito family of resorts, which has three Cabo hotels, the Pacifica, an adult-oriented beach-side hotel, the Sunset Beach, a family-oriented hotel sited next to a 161,000-square-foot central food market, and the Greco-Roman-themed Rose Resort. For those seeking extra privacy, affiliated residential communities offer condos and freestanding ocean-view villas for rent.
If You Go
What: Quivira Golf Club Los Cabos, Pueblo Bonita Resort
Where: Cabo San Lucas, Baja Sur California, Mexico
When: Moderate temperatures year-round
How much: Greens fees, $227-$370, depending on season; $213 per round as part of a three-round stay-play package. Rooms start at $466 a night.
All the Pueblo Bonito properties in Cabo offer activities that include swimming with the dolphins, whale-watching, jet skiing and guided fishing trips. All offer a variety of spa treatments.
Getting to Cabo San Lucas is a snap, with easy connections through Phoenix. One wrinkle you should know about: For a reason no one I asked could explain, you can take golf balls in your carry-on baggage on the flight to Cabo but Mexican authorities will confiscate them before you board on your return.
 Dan Vukelich is the senior editor at ABQ Free Press, a former editor at Sun Country Golf magazine and editor of newmexicogolfnews.com. Reach him at dan@newmexicogolfnews.com.