Former LPGA Tour Caddie is a Fixture at Santa Ana, Twin Warriors Golf Clubs
Albuquerque golfers likely wouldn't recognize the name Ervin Johnson, but they almost certainly know the name Nuey Johnson, who begins his 25th season at Santa Ana Golf Club next month.
The 79-year-old starter got the nickname Nuey as a toddler from an uncle. "He had served in the military in Hawaii and a lot of the Hawaiian guys were called Nui, although they spell it differently, and he started calling me that," he said.
Nuey has been around golf since he started caddying at the age of nine at the 9-hole Marshall Lakeside Country Club in Marshall, Texas, a town in East Texas, about 36 miles due west of Shreveport, La.
He was guaranteed 50 cents a bag although he made a lot more because one frequent player would ask for him and tip him well.
"I lived about a mile and a half away and would walk to the golf course," he said.
He started playing on Mondays on caddie day and developed a good swing. He took his on-course strategy cues from the better players he looped for. "At about 16 or 17, I thought, 'I'm pretty good at caddying,'" he said.
At his best, Nuey Johnson got his handicap to plus 2. He now plays to an 8.
Coming to N.M.
He came to New Mexico in his early 20s, following his wife at the time to Gallup, where she worked as a teacher on the Navajo reservation. Nuey took a job as a Job Corps counselor. While in Gallup, he won several city championships held on Gallup Municipal Golf Course, then a 9-hole course. Gallup is where he shot his best-ever score – 30 or 6-under for nine holes.
As an amateur, when he was 38 or 39, Nuey Johnson tied Las Vegas, N.M., golf legend Gene Torres for the lead on Day 1 at the San Juan Open in Farmington with a 67. He's had two holes-in-one, one in Marshall as a kid and another at Santa Ana on Tamaya No. 4.
"The guys on the tee nearby yelled, 'It's in the hole! Why aren't you jumping up and down?' I yelled back, 'I was trying to hit it in the hole. I expected it to go in the hole!"
A Long-hitting Super Senior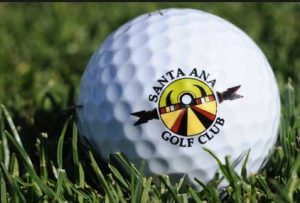 At the age of 77, he drove the green on the downhill 377-yard Par 4 No. 2 on the Cheena nine at Santa Ana during the Santa Ana Star Pro-Am.
"I creamed that drive. My pro was Stave Manning and he hit it a mile on the same line, and he pulls out his putter and walks up to the ball on the green and he yells, 'Hell, this is Nuey's ball,'" he said. Nuey went on to make the 12-foot putt for eagle.
He was a member of the now-closed Rio Rancho Country Club through the 1980s and won the club championship there in 1976. "That day I couldn't trust my driver so I didn't hit it. Instead, I teed off with a 1-iron and put it out there about 280 yards," he said.
When Roger Martinez, an assistant at Rio Rancho, moved to Santa Ana in 1991, he asked Nuey Johnson to come work for him. When Twin Warriors Golf Club opened in 2001, Nuey started working as a starter there as well. He now splits his four-day work week between the two courses.
What keeps him at Santa Ana is the people. "They respect the people who play here," he said. "Not like some other courses where they look down their noses at the customers. They treat people with respect. They're brothers and sisters."
Nuey Johnson Caddied on the LPGA Tour
Although he's moved on to a newer car, for years, Nuey drove a distinctive white 1970s Karmann Ghia decked out with green fenders and the license plate "Nuey," a sure sign you'd find Nuey in the starter's shack.
During the 1980s, Nuey came to know UNM Lobo golf standouts Caroline Keggi and Susan Saunders, both of whom went on to play on the LPGA Tour. For 10 years Nuey would fill in for their regular caddies when the Tour made stops in Texas and Hawaii. When professional events have come to Santa Ana or Twin, he's held caddie clinics for local players hoping to pick up a bag.
Besides the improvement to balls and clubs, the biggest change Nuey's seen in golf over the years has been the behavior of the players. "In the old days, they wouldn't get all mad and beat the club against the ground when they hit a bad shot like they do now," he said.
His advice to amateurs is to "play your own game and play against the golf course. Just because the other guy hits the ball 500 yards, you don't have to try to do that. Play your own game. If you play against the golf course and conquer the golf course, you're likely to beat the other player," he said.
You won't see Nuey out on the golf course for a while yet. "I don't play golf when it's below 70 degrees," he said. "I'm a wimp when it comes to golf."
"I plan to be playing golf until I'm 85 or 90, if my health holds up," he said. "I love the game. I love beating par."
Dan Vukelich, editor of New Mexico Golf News, is a member of the Golf Writers Association of America and the Golf Travel Writers of America. Reach him at dan@newmexicogolfnews.com