Your Guide to Golf in the Coachella Valley
No longer Just for Geezers, Valley courses offer top conditions, strong value
Call this New Mexico Golf News' long-overdue mid-winter golf update, with a quick overview of what's new in a destination that has come a long way since Bing Crosby, Dinah Shore and other Hollywood swells first found respite there from Tinseltown.
It's long overdue because of the months of work that have gone into my responsibilities as editor of ABQ Free Press, a cool alt weekly, which has wreaked havoc on my golf game.
So, when I had a chance recently to visit Palm Springs, I packed by golf bag and headed west. Frankly, I used to think Palm Springs golf was overrated and overpriced, but my recent return persuaded me otherwise.
What has been cheekily called "God's Western Waiting Room" has a energetic vibe despite the presence of so many retirees. The Greater Palm Springs Convention Bureau's site lists activities ranging from strenuous mountain hiking to zoos to auto performance schools and Jeep tours to architectural tours and tennis tournaments.

In short, it's a happening place. In April there's the Coachella Music and Arts Festival, where an actual polo ground is taken over by acts that include rock, indie, hip hop, and electronic dance music.
Here's a wrap-up of a golf destination where the muni courses shine just as brightly as the resort courses.
Indian Wells Golf Resort, Indian Wells, Calif.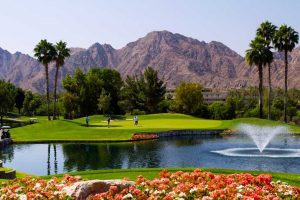 Damn, if this isn't the prettiest golf property I've visited in a long while — and a municipal golf course, no less. Indian Wells Golf Resort has two courses, the Celebrity and Players Course. Both are heavily planted with desert plants and ornamental flowers.
Both courses have significant elevation changes across a parcel of land that once was nearly flat. The result is tee shot views that intimidate thanks to overhanging tree limbs that force a player to make a concrete choice on line rather than just grip-and-rip.
Mature trees, desert shrubs off the fairways and well-kept greens give the player everything he or she could want.
The Indian Wells clubhouse is a monument to Mid-Century Modernism, with Art Deco accents of metal inlaid on dark wood. The golf courses are managed by Troon Golf, the gold standard of golf-management companies. Prices during high season come in at $189 on weekdays and $199 on weekends.
And speaking of Modernism, Feb. 16-26 is "Modernism Week" in Palm Springs when 250 events are held to celebrate the design style of the late 1950s and 1960s when movie stars and other L.A. swells flocked to Palm  Springs to indulge themselves in "Space Age" home building using avantg garde designs that have held up to the test of time.
SilverRock Resort, La Quinta, Calif.
You should be so lucky if this muni were your muni. Tucked in the shadow of the Santa Rosa Mountains SilverRock Resort is a gem that can be had for $142 during high season.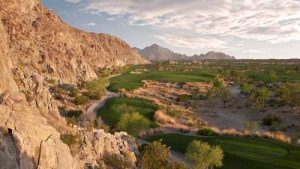 When I mean tucked in the shadow, I mean right up against the mountain, where big-horn sheep amble about on the fringe of the golf course until — wham — one of them gets spooked and in an instant the entire herd clambers 150 feet straight up a 60-degree slope of rock and hardscrabble with the ease of effort that you or I would expend getting out a golf cart.
PGA West, La Quinta, Calif.
With so many public courses to choose from — the Norman, the Nicklaus and Pete Dye's Stadium Course — it's tough to go wrong with any of the public courses at PGA West.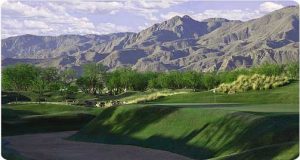 But be forewarned: In designing the Stadium Course, Pete Dye has been especially diabolical in his hazard placement — with massive fairway bunkers and hidden hazards such as the deep bunker than forms a horseshoe around the back of the rear-canted green on the 363-yard 12th hole.
By contrast, Jack Nicklaus's resort course at PGA is surprisingly forgiving, with more of a residential Scottsdale feel to it than the soul-crushing style of so many of the Golden Bear's other designs.
Desert Willow Golf Resort, Palm Desert, Calif.
Let's just say this pair of golf courses, Mountain View and Firecliff, are both a feast for the eyes and true bargains.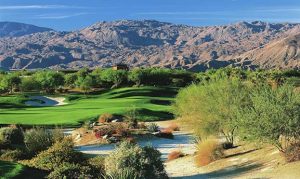 True to its name, Desert Willow is an aesthetically pleasing combination of lush fairways and native flora with the San Jacinto Mountains looming in the distance. The city, which was once a collection of sand dunes straddling wind-blown Interstate 10, has become a bustling winter home for golfers and tennis players from both coasts.
Michael Hurdzan and Dana Fry have done a tremendous job melding aesthetics with playability at Desert Willow — a feat that has been recognized by repeat California "Top 10 You Can Play" awards. It seems that every time you turn a corner to the next hole of either the Mountain View or Firecliff courses, a fresh vista with mountains, desert flowers and cactus opens up. The scents that come with the native plants are as sweet as the golf.
Best of all, Desert willow is easy on the wallet, with most high season tee times available for between $129and $138. Mid-day tee times can be had for as little as $85, with plenty of time to finish.
Where to stay
There is no shortage of cheap lodging in the Coachella Valley, with choices ranging from low-rent chains to mid-range brands to an eclectic mix of boutique hotels and B&Bs that sprang up when Palm Springs first became a getaway for style-conscious gays from L.A.
Two throwbacks to the age of the 1950s full-service resorts are the Westin Mission Hills Golf Resort & Spa in Rancho Mirage and the Miramonte Resort & Spa in Indian Wells, the latter having the added advantage of practically being across the street from the Indian Wells Golf Resort.
The Westin has two golf courses, one designed by Pete Dye and the other a Gary Player signature course. Both are worthy resort-style courses easy on both the eye and the ego.
A beer joint
Just down the street from the Miramonte Resort is the aptly named Beer Hunter La Quinta Sports Bar & Grill, at the corner of the main drag, Hwy. 111 and Washington Street. Plenty of beer choices, beaucoup TV screens, plenty of friendly wait people and overall a nice, friendly vibe. You could go a long way along I-10 before you found a place this cozy.
Getting there
If you're budget-conscious, you can fly into John Wayne International Airport in Orange County, Calif., but what you'll save in airfare will be paid back in the likelihood of traffic frustration and increased travel time. I've done it both ways and my recommendation is to fly into Palm Springs with its quaint indoor-outdoor feel — something Phoenix's Terminal 1 had into the early 1990s before traffic through Sky Harbor exploded.
While your budget-conscious buddies are slogging it through L.A. traffic and winding through the mountains and descending into the Coachella Valley from the west, you'll have already checked in, had a soak and probably will be well into your second margarita.
And in my book, that's a good thing.
Dan Vukelich, former editor of Sun Country Golf magazine, in Albuquerque, N.M., is the editor of ABQ Free Press, an alternative newspaper. He is a member of the Golf Writers Association of America and the Golf Travel Writers Association. Reach him at dan@freeabq.com.