Grab some American, United or Delta miles, clear your schedule and book yourself to Managua, Nicaragua – pronto – for an early look at the next hot place for luxury golf – or tourism, for that matter. 
In the land of Sandinistas, a terrific new golf course by David McLay Kidd has just opened. Who is David McLay Kidd? He built Bandon Dunes on Oregon's Coast, Tetherow in Bend, Ore., Donald Trump's Castle Course in St. Andrews and Machrihanish Dunes in Argyll, Scotland.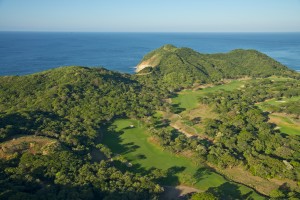 His newest design is called Guacalito de la Isla Golf Club. It's near Rivas, on the Pacific Coast about two hours south of Managua. Nearby is the colonial city of Granada. Just north of the resort is the town and beach called Gigante. The region is jungle, undeveloped Pacific cliffs and beaches. Massive Lake Nicaragua lies to the east.
Guacalito – which means little bowl – is part of the Mukul Resort, built by Carlos Pellas Chamorro, one of Nicaragua's richest men. Pellas is a Stanford business school graduate and billionaire heir to a rum and sugar cane fortune. He may savor Padron cigars and his own brand, Flora de Caña rum, but he's a savvy head of multinational conglomerate who outlasted the Marxists and is seizing his chance to move Nicaragua into 21st Century tourism.
So, Mukul ain't cheap: Bohios, or mini-villas, with private pools and decks start at $610 a night, plus 17 percent tax. Rounds for guests go for $145, plus a tip for the forecaddie.
Now, here's the good news, bad news thing. The good: Fly nonstop 120-140 minutes into Managua from Atlanta, Houston or Miami, and Mukul will send a driver in an SUV to pick you up as part of the cost of lodging. The bad: The ride south. Harrowing is a good word, as horses, pigs, dogs, cows, people and a variety of unlighted vehicles loom out of the darkness while your Nicaraguan driver does his absolute, level best to keep the speedometer glued on 60 miles an hour. The Wall Street Journal recently pointed out this very problem.
Spas? They have seven styles of spa treatment, one for every day of the week. The accommodations are first rate, featuring hand-made furniture and art. The fish and shellfish dishes are exquisite. The ocean views overlooking a broad, white-sand beach are stunning. The terrain and views rival those of the Monterey Peninsula. The lat-long for users of Google Earth are: 11°22'15.91″ N  86°00'36.13″ W.
There's a protected turtle-nesting beach one cove over. Howler monkeys lounge in trees above the course. Kitesurfers play the wind offshore. In fact, surfers have been going to Rivas for decades, thanks to steady offshore breezes that stand waves up into tight barrels. Plus, everything is cheap in Managua, which will make it hotter for retirees than Costa Rica in about … what time is it?
And the golf? Naturalistic. Minimalist. Resort golf, but good resort golf. It's the way Kidd designed things back during his Bandon Dunes breakout days 20 years ago, before he started tricking things out, a weakness he now readily admits and which he has since turned away from.
Pellas plans to eliminate the ride from Managua for many guests through construction of an airport next to the resort big enough to handle Iberia Airline 737s, but for starters he's aiming for the private-jet crowd. There's a heliport, if you want to spring for the 20-minute flight from Managua.
Want more on Carlos Pellas? Check out his Stanford bio and the crash of a Tan-Sahsa Airlines 727 in 1989 near Tegucigalpa, which he and his wife barely survived and which shaped her philanthropy and his Warren Buffett-style of "inclusive capitalism" — both of which are about to reshape Nicaragua.
The Mukul Resort is destined to be a big-shot, big-money golf resort and ex-pat community, with a heavy dose of Nicaraguan elite mixed in. On the adventure meter, at the moment, this is clearly at the far end of the dial, but that's because of the ride from Managua. Once you're inside the towering gates of the Mukul Resort, you are someplace special.
— Dan Vukelich