(LAS CRUCES, N.M.) Aug. 25, 2011 –With Aggie-Lobo football on the horizon, we thought it appropriate to revisit the New Mexico State University Golf Course, just a driver and a mid-iron from Aggie football stadium across Interstate 25.
Conclusion: Despite a rough summer with day-time highs reaching 100 to 103 degrees and a persistent lack of moisture, NMSU Golf Course is in terrific shape, uniformly emerald in hue, with greens that run fast and true.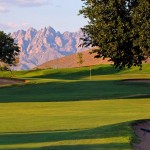 It's clear NMSU's ag-schooled staff knows how to keep their Bermuda turf healthy under the most stressful conditions, despite ancient tractor-towed grass-cutting equipment not often seen anymore.
Best of all, NMSU maintains a well-honed, healthy, high-end daily-fee feel with muni friendliness.
Signs of health were immediately apparent upon arrival during a recent weekday mid-morning:
A starter stationed at a prominently located podium and umbrella in the cart staging area; a quick offer of help with your clubs, an accurate assessment on the likelihood of getting you out as a walk-on single; radio communication with the pro shop; and an efficient assistant at the counter.
The mid-1960s layout by Floyd Farley, which started as a largely treeless desert design, long ago matured into a tree-studded challenge not unlike the mini-arboretum known as New Mexico Tech up the road in Socorro. Accuracy, not length is key at NMSU.
NMSU's generous push-up greens are baffling until you crack the code — everything races away from A (for Aggie) Mountain looming to the east.
NMSU's spacious air-conditioned Spanish villa-style clubhouse is a welcome respite from the heat and sun, with a well-appointed full-service restaurant, full bar clearly frequented by non-golfing locals for lunch.
Even the snack cart surprises: Beer choices include an eclectic mix of Boddington's, Landshark and Rolling Rock in addition to the usual  domestic lights.
At the round's end, the starter offered to drive my cart to the car rather than force me hoof it up the 50-foot-high slope to the parking lot — a customer-service detail you remember when you've just finished a round in 103-degree heat.
So much about NMSU's operation shouts that this course is about making the most of what you have, providing real value and service, and fostering a loyal customer base to fend off hard economic times — something managers of other New Mexico properties should borrow from long-time NMSU Director of Golf Dan Koesters.
Our assessment: If you're visiting Las Cruces this fall, NMSU Golf Course should be on your itinerary. Weekday greens fee is $25, plus $12 for a cart. On weekends, that goes to $31.50, plus $12 for the cart. Walking is allowed. Price- and condition-wise: NMSU is a steal in the world of New Mexico golf.
— Dan Vukelich
(This review is part of a continuing series of updates on golf in New Mexico and West Texas).
In other news:
— NMSU Aggie alum and Rio Rancho native Tim Madigan made it through 36-hole stroke-play qualifying to reach the match play portion of the U.S. Amateur in Erin Wills, Wisc. He won his first match 3 &2 to make it to the round of 32.
— A Dick's Sporting Goods golf shop is reportedly going in at the Cottonwoods Corners property on Albuquerque's West Side, off Coors Bypass near Bed Bath & Beyond, in a former American Home furniture store.