Tour Stats Show Pros Don't Make As Many Putts as Your Think
If you watch golf on TV, it appears that pros sink putts from all over the planet, and hit wedge shots to within tap-in range. But TV distorts our perception because successful golf shots are shown repeatedly, whereas missed putts and errant shots rarely make the highlight reel. It leads players to abandon realistic expectations and their approach to their own game.
What's the real story? Here's a look at the big picture and how that picture helps you lower your handicap – without changing your swing.
Putting
PGA Tour players make roughly 20 percent of their putts from 20 feet. Whether that seems like a lot of putts made or not, you can learn to putt like a tour player with this simple concept.
Stick your putter head in the hole. It's likely that the length of your putter head equals the width of the hole. If so, measure two putter head widths to the right of the hole and stick a tee in the ground. Then, measure two putter head widths to the left of the hole and stick another tee in the ground. You've now created a target-window  five-times the width of the hole.
The hole occupies 20 percent of this target window. Roll 20 or so balls through this target window with good speed (1 foot past the hole) and voila, you're a tour-caliber putter making 20 percent of your putts. The hole occupies 20 percent of the target window, therefore it will get in the way of 20 percent of your putts.
That is, of course, if you have good speed control. Many golfers notice pretty quickly that speed control is critical for putting well from this distance.
Have Realistic Expectations on Approach Shots
A common belief among golfers is that they should hit their approach shots close to the hole, especially when they have a wedge in their hand. Tour players are arguably the best players in the world. Let's look at what they do with wedge in hand.
PGA Tour players hit the green in regulation 80 percent of the time when they're 75-100 yards from the green. Their average proximity to the hole from that distance is 17 feet for shots from the fairway and 27 feet for shots from the rough.
When we see a tour player hit a wedge shot to within a few feet of the hole, they've hit or will hit another shot of the same distance to 30 or 40 feet from the hole at some other point during the round or tournament to create the average noted above. Not quite the highlight reel that we're used to watching on TV. Here's how these statistics are beneficial for improving your game:
A typical green is about 90 feet wide, let's imagine that you play your approach shots towards the middle of the green (not at the hole). Half of the time you'll end up left of your target and half of the time you'll end up to the right.
When your ball ends up on the side where the hole is, you'll have great looks at birdie (5-10 feet). When your ball ends up on the side of the green opposite of the hole, you'll simply have to two-putt for par (40-50 feet). This strategy of aiming at the middle of the green and not necessarily at the flag will allow you to hit more greens in regulation, which will lead to more opportunities for birdie and less short-sided up-and-downs for par.
Developing a better understanding of tour statistics (which are posted on the PGA Tour website) will help you identify whether you've played a good shot or a bad one. You'll become more accepting of the times when you miss the green with a wedge in your hand, or don't convert the "easy" 20-footer for birdie.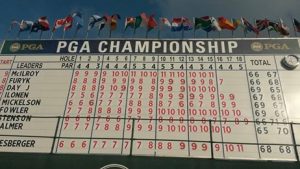 Remember, even the best players in the world miss 80 percent of their putts from 20 feet, and that they miss the green 20  percent of the time from 75-100 yards.
These statistics are not offered to have you lower your expectations but to encourage you to set realistic expectations. These numbers are neither pessimistic nor optimistic — they are simply realistic.
From my experience, I can assure you that playing with more realistic expectations decreases anxiety, increases confidence, allows you to be more accepting of your shots, and ultimately increases the enjoyment that you experience on the golf course.
Henry Stetina, PGA, is head of Golf Instruction and Player Development for the NMSU PGA Golf Management Program. He is also the Director of Instruction at Red Hawk Golf Club in Las Cruces, where he offers a variety of golf schools that are sure to improve your game. Visit www.henrystetinagolf.com for more information.