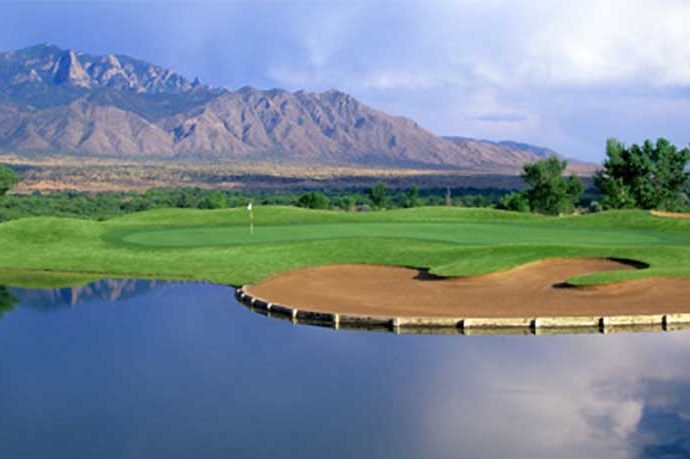 Local Golf Pioneer Leaves for Second Time
Vows He'll Be Back to N.M.
Roger Martinez, who helped build Santa Ana Pueblo into a golf powerhouse, first with Santa Ana Golf Club and later Twin Warriors Golf Club at the Hyatt Regency Tamaya Resort and Spa, is leaving New Mexico.
Martinez, 53, was named Monday director of golf operations of the Wildhorse Golf Club in Denton, Texas, where he'll manage an existing 18-hole course, oversee completion of a 9-hole course now being built, and supervise the eventual construction of a second 18-hole course for the Robson Ranch community.
The gated community currently has 2,300 of a planned 7,000 homes.
It's not the first time Martinez and his wife, Selina, have left their long-time home in Rio Rancho.
In 2015, Martinez was recruited by the PGA of America to become the organization's national director of placement for PGA professionals. His job was playing matchmaker between pros and golf courses.
In 2016, after about a half year in Jupiter, Fla., however, the couple returned to their home in Rio Rancho for health and family reasons.
Martinez had suffered an ocular tumor and without surgery was in danger of losing eyesight in his left eye. Also, both wanted to be closer to their three daughters, who live in Rio Rancho and Lubbock.
Upon his return, Martinez, attained his real estate license and became a broker with Realty One New Mexico, but he longed to return to golf.
Roger Martinez Legacy at Santa Ana
Martinez joined Santa Ana, then called Valle Grande Golf Course, in 1991. He previously was an assistant at Rio Rancho Country Club.
During his 25 years at Santa Ana, Martinez mentored 40 PGA professionals, many of whom are now head professionals at their own golf courses, including the pros who run the New Mexico Military Institute Golf Course and Cochiti Golf Club.
Throughout his tenure at Santa Ana/Twin Warriors, Martinez's message to his assistants was: Progress through the three stages of the PGA program and increase your earning potential or move on to some other golf course.

On a recent visit to Rockwind Community Links in Hobbs (with this writer), Martinez was paired with Trip and Ben, two young assistants working for Rockwind Director of Golf Linda Howell, who previously was head of golf operations at Buffalo Thunder.
Throughout their round together, the two men asked for and got advice from Martinez on everything from agronomy to developing their professional resumes. The episode illustrated why the PGA chose to lure Martinez to Florida.
Santa Ana Pueblo
Among his accomplishments, Martinez counts taking Santa Ana Pueblo from a place where just one tribal member played golf in 1991 to one where 500 tribal members now play the game – an accomplishment recognized by the USGA at the U.S. Open in 2000.
Martinez also brought the PGA's club professional championship to Santa Ana and Twin Warriors, as well as the USGA's 1999 U.S. Amateur Women's Public Links Championship, three Nike Tour events and the U.S. Trans National (women's) championship.
Martinez was also instrumental in organizing the Golf on the Santa Fe Trail golf alliance, whch markets New Mexico golf to out-of-state players.
Martinez grew up in El Paso and learned golf at the hardscrabble Ascarate Golf Course, a city course one chain-link fence away from the U.S.-Mexico border, where U.S. Border and Customs Enforcement officers patrol the banks of the concrete-lined Rio Grande.
Martinez started in golf at age 5 and began working at the golf course at age 12. Along the way, he put in some time hustling adults on the putting green of Ascarete, among them the notable trick-shot artist Wedgy Winchester. Among his recent accomplishments: 21 putts in a round.
As a teenager, his playing ability won him a golf scholarship to New Mexico Junior College in Hobbs and he later transferred to New Mexico State University, where he played golf for the Aggies.
Why He's Leaving
Roger Martinez said the Robson Ranch opportunity was something he has been looking for.
"Other opportunities presented themselves but they didn't feel right," Martinez said. "This is what I did, build a 27-hole facility into a 45-hole facility. This one felt right."
Roger Martinez and his wife are not selling their Rio Rancho home. He said he fully expects to return to New Mexico in retirement.
"When I look out the windshield, I see a runway ahead of me that's 10 years long," he said. "I'll be back."
He is the second high-profile pro to leave New Mexico. Matt Molloy of Sandia Golf Club recently left to take a corporate position with OB Sports.