Life is Good at the Fairmont Scottsdale Princess
Golfers are genetically disposed to shop for deals when they travel to warm-weather golf destinations such as Phoenix, so this may sound counterintuitive:
Stop shopping and remember three words: TPC, Scottsdale and Fairmont – the single best golf value you'll find this winter.
Hold on, you say. "He's talking about a golf course that charges $299 for 18 holes like it's a bargain. Is he on crack?" for those of you heading to the Valley of the Sun to catch some of Major League Baseball's month of spring training, Allow me to explain.
The Fairmont Scottsdale Princess, a sprawling AAA 5-diamond property, has standard hotel and private condo options, all of which qualify as "luxury" by any definition of the term.
For nongolfers, the resort has proximity to shopping and a luxury spa. For golfers, its golf concierge has a special relationship with the TPC (translation: clout to get a tee time) plus a free shuttle for you, your clubs and your buddies to and from the course.
Spring Training

Team                     Park                              Town
White Sox           Camelback Ranch       Glendale
Dodgers               Camelback Ranch      Glendale
Brewers               Maryvale Park             Phoenix
A's                        Hohokam Park            Mesa
D-backs              Salt River Fields          Scottsdale
Rockies               Salt River Fields          Scottsdale
Royals                 Surprise Recreation    Surprise
Rangers              Surprise Recreation    Surprise
Indians               Goodyear ballpark       Goodyear
Reds                    Goodyear ballpark       Goodyear
For folks who like an added measure of exclusivity (and you know who you are), there's the resort's Fairmont Gold section, a group of 69 separate condos with private lounge, honor bar, hot continental breakfast, secure parking and what seems like a battalion of staff ready to do guests' bidding.
The TPC golf experience is rock solid, unlike anything else you'll find in Arizona or in Florida. The forecaddies who run ahead and spot your ball are so good reading their greens that when they say two balls out, they mean two balls out, no more, no less.
And there's the 16th hole on the Stadium Course, where you can get a sense of the Roman Coliseum drama during the Phoenix Waste Management Open of playing a tee shot inside a stadium bigger than most minor-league baseball parks.
The TPC's practice facilities are as superb as are the course conditions. If you're on the range and hitting out of a divot, it's because you just made that divot. And the clubhouse and on-course service is attentive but not intrusive.
Now, let's talk about that $299 greens fee.
That's the daily-fee rack rate. Only a cigar-chomping fat cat who just rolled up in a limo without a tee time pays that.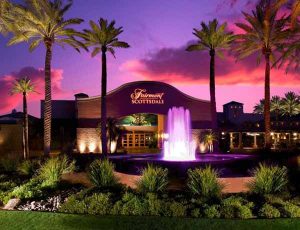 Instead, sign on for a TPC stay-play package through March 31 that gets you three nights at the Princess, a round at the TPC Scottsdale Stadium Course, another round at the TPC Champions Course (no slouch of a course, by the way), commemorative bag tag, forecaddie and range balls – all for $579 per golfer, double occupancy.
Also included in that deal are three hours of personalized instruction at the TPC's TOUR Academy, free club rentals if you need them, and 50 percent off for a day at the Fairmont spa.
If you do the math, you'll see that sometimes the ala carte discount option isn't always the right play when the goal is scoring real golf value.
Dan Vukelich, former editor of Sun Country Golf magazine, in Albuquerque, N.M., is the editor of ABQ Free Press, an alternative newspaper. He is a member of the Golf Writers Association of America and the Golf Travel Writers Association. Reach him at dan@freeabq.com.