Tim Finchem Likes TV Callers
(HOUSTON Jan. 31, 2012) — Notah Begay III is the recipient of the Golf Writers Association of America's Charlie Bartlett Award for service to society.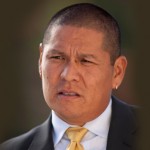 The 39-year-old Begay, a native New Mexican who is half Navajo, one-quarter San Felipe and one-quarter Isleta and the only full-blooded Native American to play on the PGA Tour, founded the NB3 Foundation to battle the epidemic of childhood and Type 2 diabetes and obesity among Native American children.
A four-time winner on tour, Begay has raised more than $3.23 million in three years through this annual NB3 Foundation Challenge Golf Event to support the foundation's programs.
The award, named for the first secretary of the GWAA, is given to a professional golfer for his/her unselfish contributions to the betterment of society. He will be honored at the GWAA Annual Awards Dinner April 4 in Augusta, Ga.
Begay recently spoke at the "Building Healthy Communities" panel at the Clinton Founation Health Forum at the Humana Challenge. The panel included Susan Dell of the Michael & Susan Dell  Foundation, Annika Sorenstam and founder of the Annika  Foundation, and Goldie Hawn of the Hawn Foundation.
In 2012, the NB3 Foundation will be launching a two-year study to evaluate the impact of holistic interventions at San Felipe Pueblo to reduce the rates of childhood obesity and type 2 diabetes.
In the last three years, the NB3 Foundation has touched more than 10,000 Native American children in 11 states through soccer, golf, health and wellness and grant programs. The largest grant assisted the San Felipe Pueblo to build the tribe's first recreational facility — a community park and soccer field, which is home to the San Felipe Soccer Club, another NB3 initiative.
Begay was also instrumental in building partnerships with two American Indian tribes — the Oneida Nation of New York and the San Manuel Band of Mission Indians — to sponsor the NB3 Challenge which has served as the largest one-day fundraiser benefiting Native American youth.
Begay, who also has a course design firm (NB3 Consulting) and is a Golf Channel analyst, has an Economics degree from Stanford and, in addition to his four Tour wins, was a member of the 1995 Walker Cup and 2000 Presidents Cup teams. His home course is Ladera Golf Course, a muni on Albuquerque's West Side.
He follows Lorena Ochoa (2011), Ernie Els (2010), Tiger Woods (2007), Greg Norman (2008) and Jack Nicklaus (2009) as recent recipients.
Other former Bartlett winners include the Louisiana trio of Hal Sutton, David Toms and Kelly Gibson, Val Skinner, Betsy King, Tom Watson, Payne Stewart, Tom Lehman, Arnold Palmer, Kenny Perry, Brad Faxon and Billy Andrade, Patty Berg and Andy North.
The GWAA will also honor Players of Year Luke Donald, Yani Tseng and Tom Lehman, William D. Richardson Award winner Maj. Dan Rooney, Ben Hogan Award winner Sophie Gustafson and Jim Murray/ASAP Award winner Brad Faxon at the April 4 dinner.
The nearly 900-member professional organization takes an active role in protecting the interests of all golf journalists, works closely with all of golf's major governing bodies and the World Golf Hall of Fame.
(MURCIA, SPAIN) Jan. 20, 2011 — Former Lobo golfer Jodi Ewart won the Q School event to gain full status on the 2012 Ladies European Tour. She had already won full status on LPGA Tour.
Ewart claimed first place in the Euro qualifier on Thursday in Murcia, Spain, finishing five rounds on the La Manga North and South courses at 11-under, edging Swiss amateur Anais Maggetti by two shots. Ewart, 24, held the top spot for the final four rounds.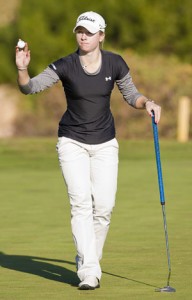 "I mean, fourth on the LPGA and now winning the LET; it's a pretty good off-season if you ask me," the Yorkshire, England, native said. "It feels good and I'm really looking forward to this year."
Ewart heads home to Florida before beginning her inaugural LPGA Tour season Feb. 9, at the ISPS Handa Women's Australian Open in Victoria, Australia.
The interview below was shot by us as she finished her Lobo golf career.
— Dan Vukelich