Lertsadwattana Paces Lobo for a T21 Finish Individually
The UNM Lobo Women Golf Team finished the Wildcat Invitational in Tucson in eighth place, 46 strokes behind the winning team Texas.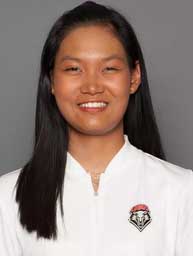 Sophomore Napat "Jenny" Lertsadwattana finished T21 among individual players for a 3-over total of 219 after three rounds on the par-72 Sewailo Golf Course, designed by New Mexico native and Golf Channel commentator Notah Begay III.
Lertsadwattana Top Finisher Among UNM Lobo Women
Lertsadwattana finished strong, posting a 1-under 71 on Day 3 after rounds of 1-over and 3-over the first two days.
Texas won the Wildcat Invitational in runaway fashion, outpacing second-place Oklahoma State by 25 strokes. Southern California finished third followed by Oregon in fourth and Arizona, which was playing on their home course, in fifth place.
Oregon State finished sixth and Iowa State finished seventh, 19 and seven strokes ahead of UNM respectively.
Scores for the rest of the Lobo squad were: Caroline Jansson at 7-over for an individual finish of T32; Myah McDonald at 9-over for T39 individually; Lauren LeHigh at 11-over for a T44; and Kamie Hamada at 21-over for an individual finish in 69th place. Full results are here.
New Mexico State, which competed in the event, finished well back at 14th place in the strong 16-team field. The Aggies were 71 strokes behind the winning team. Iowa rounded out the field in 16th place, 91 strokes off the winning pace. The Aggies were 18 shots behind the UNM Lobo women.
Lertsadwattana's performance in Tucson echoed her result in the Lamkin Invitational in San Diego the a month ago, when she recorded 3-over, her score to par at Sewailo.
In the Lamkin, Lertsadwattana registered a career-best fourth-place finish. She shot a 73 in round one and shaved three strokes off in round two (a 2-under 70), which she squeezed in just before dark on Monday night. In the third round, she carded 76 for a three-round total of 3-over 219.
By New Mexico Golf News Staff
Photos: UNM Athletics