Calum Hill Enters Day 3 at Shinnecock T14
Mustang Assistant Coach Cards a Solid 1-Under on Day 2
Calum Hill tees off today tied for 14th at the U.S. Open at Shinnecock Hills Golf Club, eight shots behind the leader, world-ranked No. 1 Dustin Johnson.
Calum Hill isn't a household name yet, like so many of the players in the field, as America's national championship moves into its third day.
And Calum Hill probably isn't a name that many of the players who didn't make the cut at the 118th U.S. Open – Tiger Woods, Bubba Watson, Rory McIlroy, Matt Kuchar, Sergio Garcia, and Jordan Spieth, – likely paused over while scanning the pairings.
But there he is, 23-year-old Calum Hill, an assistant golf coach from Western New Mexico University, in Silver City, N.M., a mining town 190 miles southwest of Albuquerque, playing the weekend at the 118th U.S. Open at Shinnecock Hills Golf Club in Southampton, N.Y.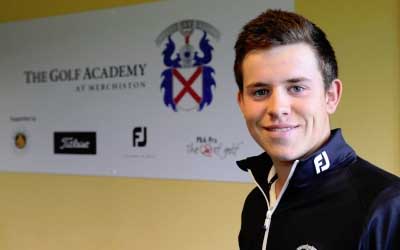 The proverbial "Kid from Nowhere," just eight shots off the lead, was set to tee off at 10:58 a.m. MDT.
Hill is from Kinross, Scotland, a town of 5,000 in the Tayside region of Scotland, north of Edinburgh. His college in New Mexico is in a town of 10,000 people.
Hill, whose name is pronounced "Cal-lum as in Calvin," shot 5-over on Day 1 and 1-under on Day 2, finishing his second round with a birdie on his 18th hole of the day.
He was one of only 13 players in the 156-player field to post an under-par score on Day 2.
His problems at Shinnecock, Hill said in a phone interview early this morning, stemmed from his inattention to the shifting Long Island wind. "The mistakes I've made have been mental errors," he said.
"On 14 and 15 the wind shifted from the northwest to directly west and I wasn't paying attention," he said of how he made back-to-back bogies in Day 1.
Over all, "Under the circumstances, I've very happy," he said. "I can't complain."
Nor did his playing partner, American Mickey DeMorat, hitting a wrong ball from the hay on Friday, fluster Hill.
A spotter had found a ball, which DeMorat hacked out, only to realize a shot later that it wasn't his. DeMorat also made the cut at 4-over and tees off today 11 minutes behind Hill.
Hill managed to survive a six-hole rollercoaster on Day 1 during which his scored two bogies, an eagle, a birdie, a par and a double bogey.
An Ability to Remain Calm
Hill's boss, WNMU Golf Coach Kent Beatty, said the spectacle of playing in a national championship in a major metropolitan area hasn't fazed Hill.
"It's like he's been doing it his entire life," Beatty said. "Out on the course, it's been no different than if he were playing in a WNMU event."
Hill has signed gloves, hats and balls for fans and chatted with the small following he's developed, said Beatty, who has walked both rounds with him in the gallery.
"I've never seen anyone like him in my 30 years of coaching. I've never seen anyone handle it like him. He has this 'It's OK' mentality. I think in six years of dealing with him, I've seen him upset maybe three times. He truly lives in the moment."
In that rocky six-hole stretch on Thursday, Beatty said Hill suffered a couple bad breaks but remained calm. What could have been the end of his tournament with the loss of as many as four strokes ended up with just a single dropped shot.
"The most important thing was his ability to bounce back," Beatty said. "He righted the ship and moved on."
Beatty said Hill's making it to the weekend of the U.S. Open will be a boon for the WNMU golf program and show recruits that going to a small school in Southwest New Mexico offers a chance to play quality golf at a strong program.
Hill's caddie at Shinnecock is former WNMU teammate Harry Wetton of Bedford, England. "We're family here at WNMU," Beatty said.
Hill's Experience in New Mexico
Hill credits his membership in the Sun Country Section PGA, which he joined in August 2016, with exposing him to the competition he needed to develop confidence in his game.
Over the last two years, he played in most section events, including the New Mexico Open. In 2017, he won the section's Mazek Matches match-play competition in Albuquerque. That same year he won the Arizona Open.
During his collegiate career at WNMU,Hill was the school's all-time scoring leader. He graduated in May with a master's in business administration. After that, he won his spot in the U.S. Open via the local qualifier at New Mexico State University and through the sectional qualifier at Canoe Brook Country Club in Summit, N.J.
Hill, who grew up playing at Muckhart Golf Club north of Edinburgh, plans to return to Scotland to try to qualify for the European Tour. He's making headlines back in Scotland with coverage by the Scottish Daily Record, The Scotsman and the BBC.
His home club at Muckhart plastered this message on the club's home page:
"Calum and his family are very well respected and committed members and fully deserve this chance to celebrate Calum's achievement. On behalf of the whole club, we wish Calum the very best of luck at Shinnecock Hills."
This story was updated Saturday morning to include WNMU Coach Kent Beatty's comments and details of where Hill is from.
Dan Vukelich, editor of New Mexico Golf News, is a member of the Golf Writers Association of America and the Golf Travel Writers of America. Reach him at dan@newmexicogolfnews.com