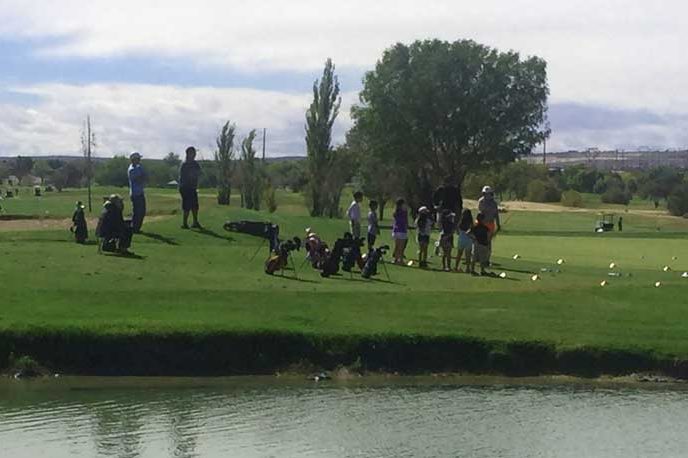 9-hole, Junior Rates Going Down
The City of Albuquerque is proposing to increase the municipal greens fees at city golf courses by $2 in most cases. The proposed new rates would take effect April 1.
The municipal greens fees for 9-hole rounds at all city courses are coming down, and the Parks and Recreation Department is creating new partial-round rates for people who want to play just four or six holes on any city course.
A public hearing on the new rates, which do not need City Council approval, will be held at 3 p.m. Friday, March 20, in the Los Altos Municipal Golf Course banquet room, 9717 Copper Ave NE.
"The changes to greens fees at the four City courses will encourage more play and help the City invest in the courses to keep them in great shape," said Dave Simon, director of Parks and Recreation.
The new 9-hole rate simplifies the greens fee structure and makes it more consistent as the 9-hole price is half the cost of the 18-hole rate, he said.
The new 4-hole and 6-hole rates are offered to accommodate golfers who want to play but who don't have time for 9 or 18 holes of golf.
"The new proposed rates will simplify the price structure and create flexibility for golfers at the City's courses, giving the public more options and encouraging more play," Simon said.
Here's a link to details of the proposed municipal greens fees increase. Below are highlights the proposed costs for rounds played without a cart:
18 holes weekday: Adult $28; Senior $21; Junior $14.
18 holes weekend: Adult $32; Senior $32.50; Junior $17.25.
9 holes weekday: Adult $14; Senior $10.50; Junior $7.
9 holes weekend: Adult $17.25; Senior $13 Junior $8.50.
4 holes weekday: Adult $4; Senior $3; Junior $3.
4 holes weekend: Adult $6; Senior $6; Junior $3.
6 holes weekday: Adult $6; Senior $4.50; Junior $3.
6 holes weekend: Adult $9; Senior $6.75; Junior $4.50.
Adult unlimited annual pass, weekends and weekdays: increases $120 to $1,700.
Senior unlimited weekdays-only annual pass  increases $100 to $1,200.
Junior Monday–Friday annual pass drops from $700 to $500.
All ages unlimited any-day afternoon pass: Increases $75 to $400 (with additional $12.50 or $15 per-round charge).
Dan Vukelich, editor of New Mexico Golf News, is a member of the Golf Writers Association of America and the Golf Travel Writers of America. Reach him at dan@newmexicogolfnews.com