(ALBUQUERQUE, N.M.) Sept. 12, 2011 – Could Snoopy One and Two be sent to the old puppy home, their jobs outsourced to unmanned aerial vehicles about to take to U.S. skies?
The venerable MetLife blimps have produced gorgeous shots of golf shots and holes at PGA Tour events since 1987. But Congress has ordered the FAA to write rules by 2015 allowing lightweight UAVs to fly in U.S. airspace for civilian purposes – including aerial photography.
To date, more than two dozen civilian entities, including two New Mexico universities, have received authority to test drones for uses as diverse as wildlife tracking, surveying archaeological sites, GIS mapping, tracking oil spills – even shooting movies. It's only a matter of time before someone obtains authority to photograph a sporting event from a drone.
One manufacturer vying for a share of what is estimated to be an $11 billion market over the next 10 years is Silent Falcon UAS Technologies, an Albuquerque startup that has developed a lightweight, hand-launched propeller-driven UAV. Its drone carries a fully gimbaled, gyro-stabilized HD camera and downlink gear.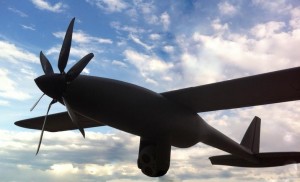 Thin-film photovoltaic panels on the upper wing surfaces of the Silent Falcon drone allow it to stay aloft for up to 14 hours, according to the company.
"From 100 feet away, it is basically silent," John Brown, CEO of Silent Falcon, said of his product's electrically driven six-bladed propeller. "They have incredible endurance and almost insignificant operating costs."
Under the FAA's guidelines, drones undergoing testing must be controlled by an operator maintaining line-of-sight contact – easy enough for an operator at a golf tournament in a crane or tower. The Silent Falcon can be flown manually or can be programmed to fly via pre-plotted GPS waypoints.
Silent Falcon is one of only a few non-defense UAV contractors entering the field; most drones being developed are for military, intelligence or police use. The expected cost of the Silent Falcon when production is slated to begin next year is $250,000-$300,000, Brown said.
Contrast that to manned blimps, which annually cost $6 million to $8 million to operate and require an aircrew of two and ground crew of 14.
Let's be clear: MetLife remains the official aerial photo platform of the PGA Tour and will continue to offer breathtaking shots from 1,500 feet of golf balls in flight.
But a fair question is: When will the the steady drone of Snoopy's motors be replaced by the fleeting shadow of something akin to a silent falcon?
— Dan Vukelich