Goat Caddies Work for Peanuts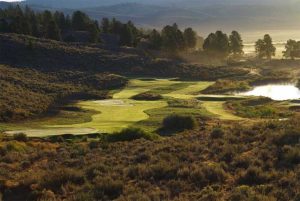 A golf course resort in Eastern Oregon is debuting trained goat caddies later this month.
The course at Silvies Valley Ranch, a 140,000-acre working cattle and goat ranch near Seneca, Ore., employs goats outfitted with saddle bags to carry clubs.
The goat caddies, which work for peanuts, follow their players around and chew grass and weeds when their services are not needed.
They don't read putts or offer yardages.
"Outfitted with a custom, Seamus Golf-designed pack, the goats can carry up to six clubs, a dozen golf balls, tees, six cans of refreshments for their customers, as well as a few dozen peanuts. "They don't work for free!" the ranch says on its website.
The original idea was to train the goats to carry supplies for hikers on the ranch. That grew into the caddie idea. "We talked to some of the goats and they said, 'For a few peanuts, I'll do that,' " Silvies owner Scott Campbell said.
A handful of goats was selected from the herd of 2,600 to inaugurate the goat caddie program.
The goat caddies are 2-8 years old; they live to be 12-14 years old. They usually work 3-4 days a week and about 6 hours per day.
"Our caddies work for peanuts and we have strict rules about them using tobacco or alcohol while on duty – it's forbidden, but they are allowed to eat weed(s) anytime they want to on the job – as long as it doesn't interfere with their duties," the resort says.
The caddie shack currently houses four goat caddies: Bruce LeGoat, Mike LeChevon, Peanut LeGoat and Roundabout LeDoe, a female goat caddie.
The goats will make their debut on July 10 when Silvies Valley opens a 7-hole cross-country golf challenge called "McVeigh's Gauntlet" that traverses steep ridges that golf architect Dan Hixson deemed too extreme to be worked into the championship course.
The 18-hole Craddock and Hankins course are reversible. "The course direction is reversed each day to create a different layout with a variety of pin placements and tee box options, creating thousands of unique rounds," according to the resort.
The ranch's Chief Egan course, named for the last Paiute war chief, is a nine-hole par 3 course with water on every hole.
Guests can stay in rooms in the main ranch house or in individual cabins. Because the ranch has no cell service guests are given radios to communicate with the resort front desk. Meals are taken communally in the main ranch house.
The ranch has a shooting and ax-throwing range, multiple fishing ponds, horseback riding and carriage rides. Guests can watch the ranch's cowboys working the cattle and goat herds. Because of its remoteness, nighttime skies are ablaze with stars.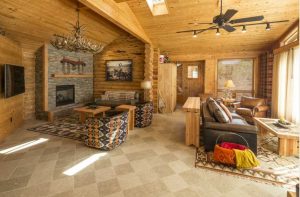 Wildlife found at the ranch includes elk, mule deer, pronghorn antelope, sage hen, grouse, quail, black bear, cougar, coyotes, bobcats, badgers, porcupines, beaver, martins, river otters, hawks, eagles, cranes, swans, geese, ducks, songbirds, Red Band Trout, crawfish and frogs.
Dan Vukelich, editor of New Mexico Golf News, is a member of the Golf Writers Association of America and the Golf Travel Writers of America. Reach him at dan@newmexicogolfnews.com