Golf in Reno-Tahoe: Cool, Crisp, Clear
Diversity of Golf Offerings Rivals Any U.S. Destination
High in the Sierra Nevada Mountains, far to the north of drought-parched New Mexico, the amount of snow that has fallen on the Sierra Nevada Mountains has made golf in Reno-Tahoe as lush and green as Ireland.
With its beaches and abundance of skiing and other alpine activities, Reno-Tahoe has long been a getaway for Silicon Valley and the San Francisco Bay set. Of late it's become a playground for the rest of the United States.
Now, thanks to a cornucopia of choices, the superb quality of golf in Reno-Tahoe makes the area a first-rate destination that New Mexicans should add to their to-do list.
By car from Albuquerque, it's a two-day drive. By plane it's about a five-hour flight through either Phoenix or Denver into Reno-Tahoe International, a friendly, accessible, no-hassles airport where the rental-car center is right outside arrivals.
Here are my notes on golf in Reno-Tahoe from a visit last summer. Topping my memory are the locals' descriptions of enduring an epic 800-plus inches of snow during the winter of 2016-2017. Because of the elevation and early snowfall, the golf season in the region generally runs from mid-May to mid-October.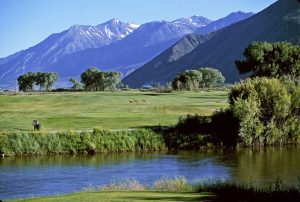 In fact, one course I played, Genoa Lakes Golf Resort, an enjoyable, moundy parkland course in the valley south of Carson City, was covered that day by acres of casual water from the runoff-swollen Carson River.
I'm sure I experienced a mere fraction of what John Harbottle III and Peter Jacobsen had in mind. The casual water obscured the course's 12 actual lakes, which are a magnet for hawks, deer and other wildlife.
Golf in Reno-Tahoe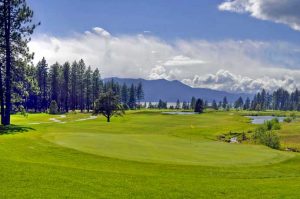 You might recognize shimmering Lake Tahoe as the dramatic backdrop for the annual American Century Championship, a televised celebrity golf event that has attracted baseball, football and basketball stars, as well as the current occupant of the White House. Two-time Major League All-Star pitcher Mark Mulder has won the tournament the last three years.
The venue for the American Century is Golf Digest's "Top 100 You Can Play" Edgewood Tahoe Golf Course in Stateline, Nev. The course sits mere yards – in good snow years, sometimes mere feet – from the beach of Lake Tahoe itself.
At 6,230 feet above sea level, New Mexicans will find themselves right at home as their shots easily cut through the thin, dry Sierra Nevada air.
Edgewood Tahoe, designed in 1968 by George Fazio, plays 7,529 yards from the tips. It rises and falls along pine-covered slopes above the southeast shore of the lake as it plays peek-a-boo with the sparkling blue waves of the 1,644-foot-deep glacial lake.
Two of the most spectacular examples of golf in Reno-Tahoe come at the end of your round.
No. 17 is a par 3 that plays 141 yards from the white tees. The lake and beach are nine yards to the right of a green guarded by a massive crescent bunker spanning the green's front. Along with two eyebrow bunkers behind, the hole looks like a mischievous smiley face, challenging you to fly the yawning front bunker.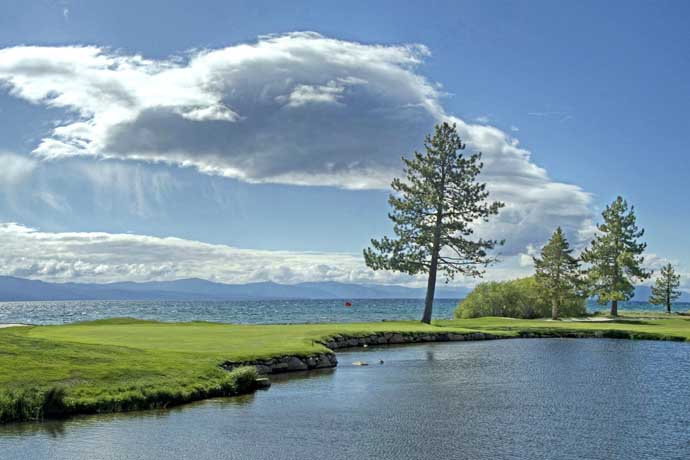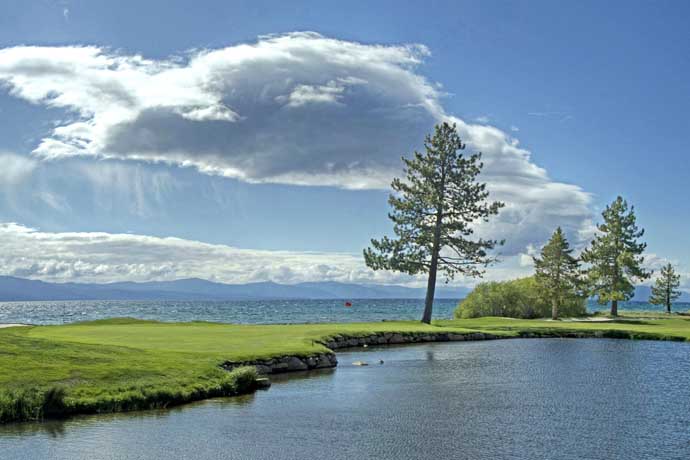 The par 5 18th plays 492 yards straightaway, but the approach is to a green flanked again by the lake on the right, plus a pond on the left. The combination can leave a tiny window of just 29 yards for anyone trying to avoid a watery grave.
Edgewood Tahoe and its soaring stone, beam and glass clubhouse are just down the hill from the casino hotels that line the main drag of Stateline, Nev. Edgewood Tahoe's rates are $140-$280 from mid-May through early October. This year, spectators can take in the American Century July 10-15.
Truckee
If Reno and Stateline have more than their fair share of gray-haired retirees yanking on slot machine levers, Truckee, Calif., about nine miles northwest of Lake Tahoe, balances out the demographic quite nicely. It's a bustling, outdoorsy and much younger ski town where the uniform is jeans, checked flannel shirts, North Face vests and hiking boots.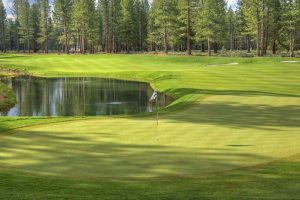 This growing town of 16,000 has a strong coffee, craft brew and arts culture and exudes the same youthful vibe as Durango, Col. Fleets of mud-splattered four-wheel-drive SUVs and pickups hauling kayaks, rafts, mountain bikes, and dogs buzz around town.
With legalization of recreational marijuana in California last January, Truckee's elevation 5,899 feet above sea level got a little higher.
Truckee holds its own against golf in Reno-Tahoe. The immediate Truckee area has eight courses, including Northstar California, but a standout is Old Greenwood Golf Club, a Jack Nicklaus design about four miles northeast of town.
The layout of Old Greenwood takes full advantage of vistas of the surrounding Sierra Nevadas. Some 7,518 yards long from the tips, the course winds its way through Ponderosa pines at about 5,800 feet above sea level.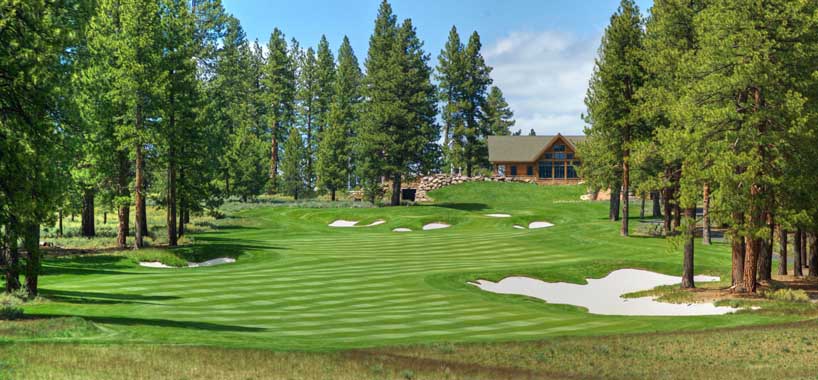 As you might expect from the Golden Bear, Old Greenwood favors a fade. But despite the severe terrain, the layout would suggest that Jack decided to give higher handicappers a break by minimizing elevation changes within any given hole.
Old Greenwood is part of the two-course Tahoe Mountain Golf Club that also features Golf Club at Gray's Crossing. Old Greenwood's greens fees vary from $150 to $200 throughout the season, which starts June 14 and ends when the snow flies in October.
Nakoma
About 45 miles northwest of Truckee in Clio, Calif., is the Nakoma Golf Resort and its formidable Dragon Course, a design that at first blush appears similar to Nicklaus' Old Greenwood. That is, until you realize that while routing it, designer Robin Nelson must have said, "nah," to  the idea of  minimizing intra-hole elevation changes.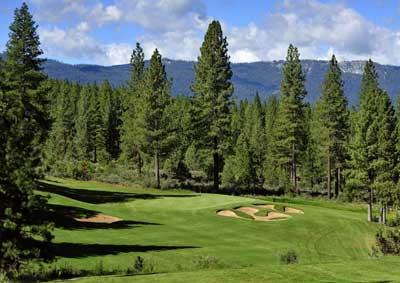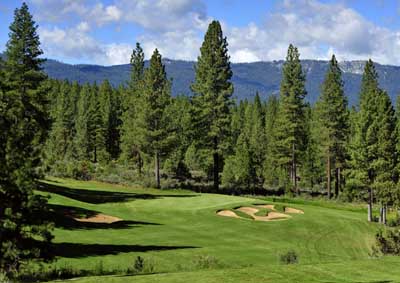 Because of that, at 7,538 yards from the back tees, the 20-year-old course lives up to its name and weighs in with a hefty USGA course rating of 75.2 and fire-breathing slope of 140.
Even if you weren't a golfer, the drive to Clio to check out Nakoma's clubhouse would be worth the trip. At least it was for me, having roomed with an architect in college and years ago having the Frank Lloyd Wright home and studio as part of my beat for a weekly newspaper in Oak Park, Ill.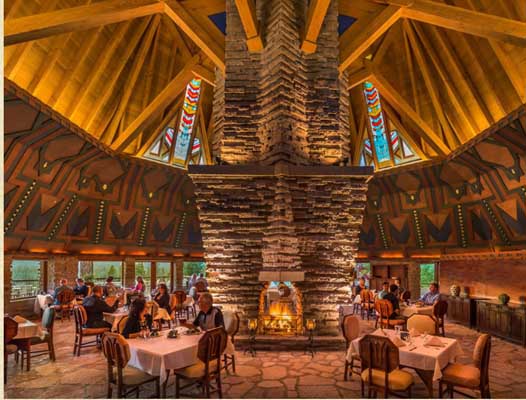 In 1957, Wright prepared plans for a wigwam-shaped clubhouse for the Nakoma Golf Club in Madison, Wis. While that clubhouse was never built, California's Nakoma obtained the plans and construction went forward. The result is a multi-story wigwam, the roof of which is supported by a towering central stone fireplace surrounded by a bar and fine-dining restaurant.
But wait, there's more!, as they say on TV, at least on the Frank Lloyd Wright front.
Down the hill from the clubhouse is Nakoma's guest lodge, designed by modern-day architects who appear to have traveled through time to figure out what kind of lodge Wright would have designed were he still alive.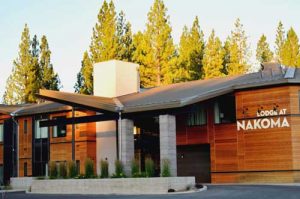 The resulting minimalist, distinctly modern structure has hints of Mies Van der Rohe through its use of glass, clean lines and its distinctly European feel.
Nakoma recently opened a 12,000-square-foot sports and wellness center it calls "Altitude." The antipole to your typical dingy fluorescent-lighted hotel fitness center, Altitude includes a fitness room, children's center, climbing wall, lap pool and hot tubs – all under high ceilings and bathed in natural light from floor-to-ceiling windows
Golf rates at Nakoma vary from $80 in the fall to $85 in spring and $115 in summer.
North Lake Tahoe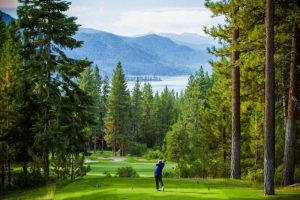 At 6,350 feet above sea level and two-thirds of a mile from the northeast shore of Lake Tahoe, the Incline Village golf courses are the focal point of an unincorporated town that has become home to retirees from everywhere and a second home to denizens of the Bay area.
Both are run by PGA Professional Michael McCloskey, a Los Alamos native and son of Dennis McCloskey, retired manager of Los Alamos County Golf Course who was a recipient of the Sun Country Section PGA's lifetime achievement award.
Of all of the golf in Reno-Tahoe, topographically, Incline Village's Championship Course is perhaps the most dramatic, thanks to steep terrain that – when I played it – saw raging streams and waterfalls rushing through it, carrying the winter's runoff from that whopping 800 inches of snow. At times, the sound of water was nearly deafening as it raced toward Lake Tahoe 125 feet in elevation below.
As you might expect for a Robert Trent Jones Sr. golf course built on such steep terrain in a high-end residential community, the Incline Village Championship Course's holes tend to traverse the slope as they wind through tall pines.
Rates at the Incline Village Championship Course vary from $120 to $190, depending on season. The Robert Trent Jones Jr. Mountain Course will set you back anywhere from $40 to $55. Both courses open in mid-May and close by mid-October.
Real estate opportunities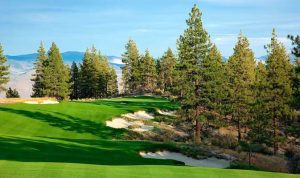 I was privileged to play two private courses in the Reno-Tahoe area that illustrate the real estate opportunities the region offers out-of-town visitors.
Near Minden, about 15 miles southwest of Carson City, Nevada's capital, is a relatively new development that lies in foothills on the other side of the ridge forming the east side of the bowl that is Lake Tahoe.
The golf course at Clear Creek Tahoe, built in 2009 by the powerhouse design firm of Coore-Crenshaw, is the centerpiece of the Clear Creek Tahoe community. The course is special in that Coore-Crenshaw rarely does mountain designs.
Unlike some of the other golf in Reno-Tahoe, Bill Coore and Ben Crenshaw carved from the woods quite generous fairways and turfed rough. They make up for this gift to high handicappers with some brutally slick greens that, depending on weather conditions, will vex even the best putters.
As you might expect from the guys who returned Pinehurst No. 2 to Donald Ross' original vision, Clear Creek at times has a North Carolina-esque Sand Hills feel, which offers plenty of opportunities to hit low-runner approaches.
Homesites varying from a half-acre to about five acres start at $225,000. The fact that buying in Clear Creek Tahoe – in Nevada less than nine miles from the California state line – offers significant tax advantages features prominently in its real-estate marketing to visitors playing golf in Reno-Tahoe:
"Individuals who are 'domiciled' in Nevada and become Nevada residents will generally escape state taxation of their income, except for income arising from sources within another state," the developers say.
Montreux
Another exclusive Nevada enclave that touts the tax advantages of building in Nevada is Montreux Golf & Country Club, a luxury development midway between Reno and Tahoe.
Montreux is the home of the Barracuda Championship – successor to the Reno-Tahoe Open that Albuquerque's Notah Begay III won in 1999 (the last year the tournament was known by that name). This year, the Barracuda will be played July 30-Aug. 5.
Montreux follows a  fairly benign foothills terrain that belies its 800-foot elevation change across 18 holes. That gives it the feel of a golf course you might find on the bluffs near Lake Michigan in either Michigan or Wisconsin – rolling hills, generous fairways, gentle valleys and plenty of pines to frame the views.
This Jack Nicklaus course plays 7,472 yards from the tips, but its elevation of 5,600 feet above sea level means it plays more like 6,500 yards.
Lots for sale at Montreux as this article was written ranged from $245,000 to $675,000. An indicator of the market Montreux seeks to attract can be gleaned by one amenity it offers members: having their car washed and waxed by the valet while they're on the course.
Within Montreux is a private community called Parc Foret at Montreux that offers Forested lots one-quarter of an acre to 0.7 acres. Lot owners can choose their own builder and face no time limit in which to build.
Dan Vukelich, editor of New Mexico Golf News, is a member of the Golf Writers Association of America and the Golf Travel Writers of America. Reach him at dan@newmexicogolfnews.com
Many of the photos accompanying this article were taken by Rod Hanna of Reno Tahoe Golf. Others were taken from the websites of the properties described.