It Helps to Have Photo Proof of a Miserable Day in the Rain
Step 1: Pay the greens fee.
Step 2: Tee off and watch the rains roll in on No. 2. On No. 4, strain to hear your caddie over the staccato of lashing rain as he explains, shouts, actually, that there are no rain checks – ever – at Pebble Beach, which triggers abject misery and a grim resolve to play on.
Step 3: Take the following picture in the middle of No. 9 fairway to document the worst round you've ever played, not counting the day you crouched on your hands and knees begging for your life as lightning struck all around you.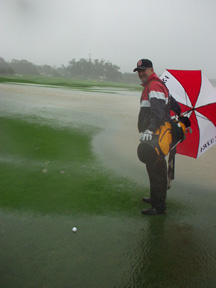 Step 4: Get riled up back home when, every few weeks, Pebble Beach sends you another glossy marketing packet saying they want you back.
Step 5. Calmly compose a civil letter to the CEO of Pebble Beach complaining about the no-raincheck policy.
Step 6. Enclose in the letter the photo of your playing partner, Jack Brant, standing near his ball as he awaits a ruling on "relief from casual water."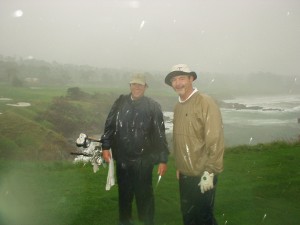 Step 7: Finish the round with just nine putts on the card because hydroplaning makes putting impossible after No. 4.
Step 8. Go home and wait for (a) the marketing mailings to stop or (b) a letter to arrive from Pebble Beach inviting you back.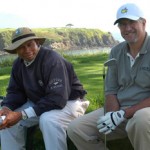 Step 9. Shout "Hooray!: when the CEO's apology arrives.
Step 10. Agree to accept his offer to return to Pebble Beach on a sunny day. Take a picture with your new caddie on No 5 tee, and label it "Happy Ending!" Then send it to the CEO with a note of thanks.
That's one way to play Pebble Beach for free. It's not for everyone, but I think of this every time I see Stillwater Cove beneath No. 5 green during the annual AT&T Pebble Beach National ProAm. It's great that someone, especially a big shot like Pebble Beach CEO Bill Perrochi, will listen to a customer's reasonable complaint and agree to make things right.
Dan Vukelich is editor of NewMexicoGolfNews.com. Reach him at dan@newmexicogolfnews.com