(ALBUQUERQUE, N.M.) March 28, 2011 — No sooner had the praise for Spencer Levin left Johnny Miller's lips than Levin's ball became possessed by golf devils.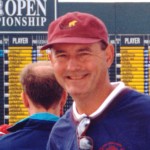 On Day 3 of the Arnold Palmer Invitational at Bay Hill in Orlando, Levin was a putting and driving machine until mere seconds after Miller said this (paraphrasing):
Levin, if he starts winning, would be a strong pick for the Ryder Cup. He is a grinder. He is a scrapper who drives you crazy in a match.
The words had hardly left Miller's month when Levin missed badly right on No. 15, bogied that hole, bogeyed the next and fell two strokes behind leader Martin Laird.
The jinx continued through Sunday morning with five bogies for a front-nine 41. Levin limped in at the end of the day in tie for sixth, looking frayed around the edges.
Levin was a bit uneven when he was a Lobo golfer, but please, don't let Johnny Miller say anything nice about you on TV if you're ever in the hunt.
— Dan Vukelich
Elsewhere …
There's a flap in India currently over the Indian Army's vast golf course holdings — 97 courses covering at least 8,000 acres, according to the press reports out of Britain.
Imagine what would happen if similar criticisms were raised in the United States, where military golf courses have been largely off-limits to non-military non-military retirees since 9/11.
New golf-course product: Tapinz is new marker for hazard boundaries, OB boundaries and fairway yardages. It's a colored metal tube within a second tube buried in the turf.
In the extended position, the inner tube is held up by magnets, but a tap to the top by a maintenance crew member or player drops the extended tube into the larger tube.
Only problem we see is players forgetting to re-extend the vertical tube, so OB and hazard boundaries remain a mystery. Click here to see a YouTube demo.
Sex and  the PGA Tour: In a tell-all book that she says will make Tiger Woods "look like a saint," John Daly's ex-wife describes the groupies who follow the tour, reports the New York Post. More.