(ALBUQUERQUE, N.M.) May 6, 2011 — Analysis/opinion. Bob McCannon and his fellow West Side neighbors are perhaps city golfers' best chance of turning around the Albuquerque Parks and Recreation Department-managed embarrassment known as Ladera Golf Course.
Last Friday, McCannon, president of the Ladera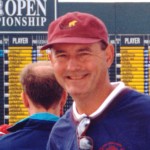 West Neighborhood Association, played the course for the first time since last November and described it as being in "the worst condition I have ever seen."
Vast swaths of dead grass began on the practice green and continued through the fairways and greens of all 18 holes. McCannon and I were paired on the first tee. I played with him as he described how much the course means to him and his neighbors.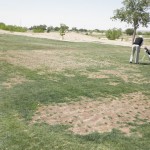 "The people around here realize that this golf course means a lot to their property values. They have a financial stake in the condition of the course and they are going to be outraged when they see how far this place has declined."
"I have never seen it this bad," said McCannon. He took cell-phone photos throughout the round. You can see McCannon's photos here. They depict the same awful conditions previously reported in this blog earlier this year and in Sun Country Golf last May, before that magazine ceased publication.
"I live over there," McCannon said, pointing to his home along the Par 3 13th hole. "I have a very good view of the course and see the daily goings on here.
"I see a lot of driving around in a pickup truck by the two maintenance supervisors, but not much else."
One thing McCannon hasn't seen is any improvement at Ladera, despite promises from a parade of city officials over the years.
McCannon and his neighborhood association have politically mobilized before so should they decide to weigh in on behalf of the golf course, there's reason for hope.
Importantly, the Ladera West Neighborhood Association has enjoyed good relations with Ken Sanchez,  the West Side's city councilor. Their meeting minutes show Sanchez has attended their meetings and listened to and taken action on their concerns.
"Ken Sanchez has been sensitive to the needs of this neighborhood and helped get streetlights and other upgrades at the intersection of Ouray and Ladera Drive, turning a crappy intersection into an attractive gateway to the neighborhood," McCannon said.
Since at least 2008, Sanchez has lent a sympathetic ear to golfers' complaints about conditions at Ladera. In 2009, he  and Councilor Debbie O'Malley helped get Ladera $1.5 million in general obligation bond funds for a new irrigation system — finally slated to be installed this fall.
Two years later, Sanchez needs to know it's not just lack of water that's killing Ladera. It's inept maintenance practices on the ground, exacerbated by benign neglect, lack of financial transparency and turf protection at the top levels of Parks and Rec, which oversees the city's golf courses and is accountable for the $3.5 million-plus in greens fees that flow through the golf enterprise fund each year.
Sanchez needs to know that in the last four years, two golf maintenance heads have either been run off or demoted by their superiors at Parks and Rec. Were they problem employees or a symptom of a larger problem?
Perhaps McCannon and his neighbors can do what golfers and the city's volunteer Golf Advisory Board have been unable to do, which is get Councilor Sanchez and Mayor Richard J. Berry to recognize that Ladera's problems go beyond water, grass and fertilizer.
Bottom line: Burying $1.5 million worth of PVC pipe in the ground out there later this year isn't going to change anything.
–Dan Vukelich