(ALBUQUERQUE, N.M.) April 13, 2011 — Albuquerque's West Side municipal course is top-dressing and aerating, but it would be hard to tell.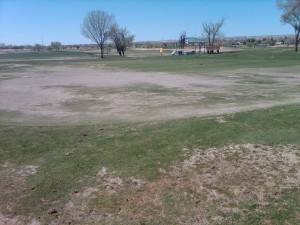 At a time when most courses in the metro area are greening up nicely, Ladera remains largely brown, dead and in general disarray.
The accompanying photo of Ladera's practice chipping green (taken April 13 and facing southwest) shows top-dressing sand application has occurred — but it also highlights significant dead sections of the green. By contrast, an area in the foreground, which slopes toward a pond near the clubhouse, would qualify as casual water during tournament play.
The pattern of dead green segments, bare fairway spots and mudholes is repeated throughout the golf course — due in part to uneven watering by the course's 31-year-old city-installed irrigation system.
Players, concessionaires and the city's Golf Advisory Board have for years have specifically complained about the chronically poor conditions of the range and practice putting and chipping greens.
Ladera is now in roughly its 16th year of poor conditions as a new irrigation system awaits construction bidding and possible installation this fall — two years after voters approved the money.
Vote in our poll on what you think is going on at Ladera Golf Course by clicking here or on the link to the far right of the menu on this page.
Click on the photo to zoom in and examine details of the practice green's condition.
— Dan Vukelich