Gated Enclave Features RJT II Course
Talk to anyone who knows Puerto Vallarta, Mexico, and they'll wax nostalgic about the 1980s, when newly built Pacific beachfront condos were dirt cheap in Nuevo Vallarta, a snowbird enclave just three miles from the airport and five miles from downtown.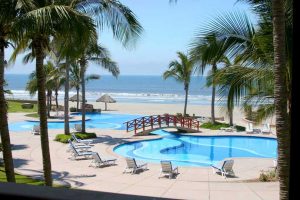 An analog to Nuevo Vallarta is now springing in another Pacific Coast town, Mazatlán. The Estrella del Mar Resort, is four miles from the airport and 10 miles from Mazatlán's city center.
Mazatlán (population 438,000), lying 200 miles north of Vallarta, often is overlooked as a Mexican beach destination because of the scarcity of nonstop flights, and because fares from the U.S. haven't yet dropped. (Southwest Airlines hasn't begun service there yet.)
But for retirees and snowbirds searching for their place in the sun south of the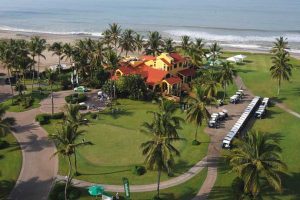 border, Mazatlán, because of its affordability and terrific weather, is well worth a scouting trip this winter.
Here's what I mean:
The weather: Mazatlán enjoys a moderate year-round climate, with summer highs rarely topping 91 degrees and average winter lows rarely dipping below 77. In the afternoon, onshore Pacific breezes keep you cool. Rainfall is modest, just 31 inches a year.
The golf: Estrella del Mar has a 7,015-yard, 18-hole Robert Trent Jones Jr. golf course that features six holes along the beach. The greens of Jones's spacious palm tree-lined course recently were enlarged and re-grassed with a superior salt-tolerant Bermuda varietal. The course is home to the PGA Latin American Tour and a John Jacobs Golf School and Academy. Best of all, it's a steal at $75 during low season and $130 during high season.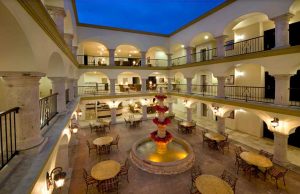 Lodging: Las Villas, the Estrella del Mar resort's lodge, is a charmingly unpretentious three-story, 47-room hotel – the antithesis of the mega-resorts of other Mexico beach destinations. The staff is unfailingly friendly. On property are two restaurants, a spa and fitness center, tennis courts, swimming pool and more than three miles of beach. A third restaurant at the golf clubhouse offers superb food served indoors or on an covered patio just off the beach.
A two-night, three-day stay-play package for two runs $499. For non-golfers, the resort's reservations site shows king suites at $162 a night through February.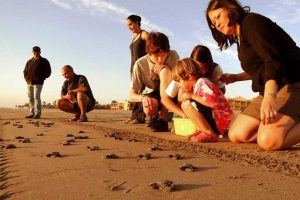 The environment: Tropical bird-watching tours are available. The resort also operates a government-sanctioned Olive Ridley sea turtle hatchery. From early fall through early winter, guests can participate in the release of hundreds of baby turtles each day at sunset.
The eggs are harvested from the beach and incubated in sand inside the hatchery to protect them from natural predators and poachers until the hatchlings emerge . Once they're ready for release, it's bitter-sweet watching the poker chip-sized turtles scramble down to the water and freedom knowing that fewer than five in a hundred will survive the perils of the sea to reach adulthood.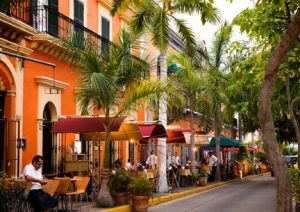 Downtown: Mazatlán has a vibrant core, thanks to a young demographic that enjoys the bars, restaurants, and outdoor music of the Plazuela Machado. There's plenty of shopping and people-watching along the Malecόn, one of the longest seaside boardwalks in Mexico.
The 119-year-old Carnival of Mazatlán (Feb. 8-13, 2018) is one of the largest, most important festivals in Mexico. It culminates in "The Burning of Monigote" – Mazatlan's version of the Burning of Zozobra in Santa Fe.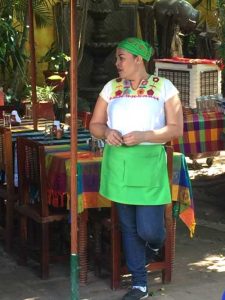 What's nearby: About 28 miles north of the Mazatlán city center is the sleepy mountain town of El Quelite with clothing and art shops and a family-run restaurant, El Meson de Los Laureanos, that serves terrific Mexican breakfasts as chickens wander around the dining room.
Not far away is the Vinata Los Osuna, a family-run distillery that produces a tequila-like liquor from 100 percent Weber blue agave using the same equipment the family has been using since 1864. (Because of a political drama dating back to 1944, the family is not allowed to call the product tequila.)
Real estate: The Estrella del Mar resort is in phase 2 of development of its gated resort community, with large beachfront lots available at about $495,000. More modest lots off the beach start at $49,000. Custom homes start at about $218,000. Condos are available starting at $139,000. All lot purchases come with a 10-year transferable golf membership.
Getting there: American, United, AeroMexico and Delta all fly to Mazatlán, but for New Mexicans the best connection is a one-stop American itinerary through Phoenix at an admittedly pricey $633 roundtrip – at least until Southwest starts flying there.
Dan Vukelich, former editor of ABQ Free Press and Sun Country Golf magazine, is editor of NewMexicoGolfNews.com. He is a member of the Golf Writers Association of America and the Golf Travel Writers of America. Reach him at dan@newmexicogolfnews.com