Cart Path Work Should be Completed in March
Santa Ana Golf Club has begun renovating aging cart paths on all of its 27 holes.
Renovation began Jan. 29 and should wrap up by March 19. "We met with them today and about two months from now, it's going to be a whole different experience," Dave Brown, Santa Ana's head professional, said Monday.
During weekdays, one of the three nines will be completely closed, starting with the Tamaya Nine, followed by the Cheena Nine and the Star Nine. On weekends, all three nines will be open but carts will be directed away from ongoing construction, Brown said.
"I've seen the work they're doing and, wow, they're going to be smooth," he said. Tree roots that have led to upheaval of paths will be removed to a depth to allow the paths to be bump-free, he said.
Santa Ana Golf Club opened in 1991 as Valle Grande Golf Course and later changed its name to recognize the tribe that operates the 27-hole daily fee course and its 18u-hole sister course, Twin Warriors Golf Club, an amenity of the Hyatt Regency Tamaya Resort and Spa.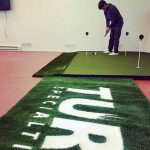 At Twin Warriors, Director of Instruction Sandy Lemon announced that the course's indoor practice facility has two new hitting bays and a new putting surface. The facility is available for use by students taking lessons from Lemon or one of five other instructors at Twin Warriors or Santa Ana.