Rocky Foothills Now 7,258 Yards of Emerald Fairways
The Phoenix Metro just got another great new golf course — the Victory Course at Verrado Golf Club in the West Valley — that can be had for an introductory rate of $99, with a replay for $25.

This one's a must-play for Spring Training fans flocking to the Valley of the Sun to see Cactus League baseball in a couple weeks. It's off I-10, about 12 miles northwest of the Metro's western-most Spring Training venue, Goodyear Ball Park, where the Cleveland Indians and the Cincinnati Reds train.
Designed by PGA Tour player Tom Lehman, the Victory Club was built on a former proving ground for Caterpillar heaviest and toughest earth-moving equipment.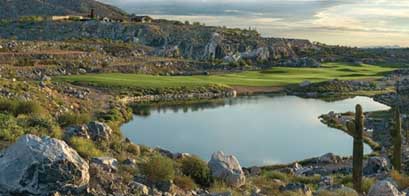 Lehman called his new layout "surreally beautiful." He said the rugged rock environment dramatically contrasts against "immaculately maintained fairways and greens."
In every way, he said, "We've truly used whatever the land has given us and left the terrain all natural, so it looks like the course has been built right into the land. In fact, I can't think of another course in Arizona that is quite like it."
The Victory Club is the first course to open in the West Valley since its sister course, Verrado, opened in 2002. Its opening coincides with Arizona's peak golf season.
"Because Victory's debut is so special, we wanted to do something special for our guests, too," said Doug Foss, director of marketing for Verrado Golf club. "We know there has been a lot of anticipation about the course opening, and I think what people will find when they come and play it is that Tom Lehman has really added another true gem to the Arizona golf scene."
The Victory Club is 32 due west of Phoenix Sky Harbor Airport, hard against the White Tanks Mountains.
To play Victory now for just $99, and get the replay, which the club is calling "the bounceback round," for just $25, visit www.verradogolfclub.com or call (623) 388-3000.
Dan Vukelich, former editor of Sun Country Golf magazine, in Albuquerque, N.M., is the editor of ABQ Free Press, an alternative newspaper. He is a member of the Golf Writers Association of America and the Golf Travel Writers Association. Reach him at dan@freeabq.com.