(ALBUQUERQUE, N.M.) April 6, 2011 — Thank goodness for CBS and The Masters.
Or, put another way, it takes just a few minutes with your thumb on the fast-forward button to realize how little golf you actually see over the course of a three-hour TV broadcast.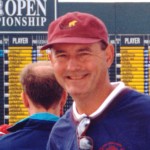 My DirecTV DVR recording of the final round of the Shell Houston Open revealed that NBC/Golf Channel often stayed with the action for as few as four — sometimes just three — shots (not counting replay highlight of earlier action) before cutting away to a battery of commercials.
The players, their bags and even their caddies are walking ads. The backdrops are ads. The names of the tournaments are ads and the TV ads are, well, ads.
That ad-heavy NBC/Golf Channel performance came despite as many as four players being highlighted before Phil Mickelson put the tournament away with an amazing display of shot-making and putting.
So, watch the Masters and its limited commercial-interruption weekend coverage and recognize just how special that broadcast is, compared to the ceaseless blizzard of golf, car, Viagra and brokerage ads that TV golf fans endure week after week.
— Dan Vukelich
Elsewhere …
Losing Our Irishman: Sun Country PGA professional Joe McDermott, 70, is pulling the plug on Albuquerque and settling permanently into his seasonal Port St. Lucie, Fla., home next to PGA Village Golf Club.
McDermott, winner of a Sun Country Section PGA Lifetime Achievement Award in 2009, is making the move due to the health of his wife, Susan, who is recovering from a heart attack.
McDermott, an Irish native who played for the New Mexico Lobos with Sierra del Rio's Guy Wimberly and Ladera's Sam Zimmerly under Lobo golf coach Dick McGuire, was the focus of a feature in Sun Country Golf magazine in the summer 2009.
McDermott worked at Albuquerque Country Club for 27 years, later played briefly in Europe, won the Irish Senior Open, and most recently was teacher-in-residence at Ladera under his former teammate Zimmerly.
Ladera progress? Eighteen months after Albuquerque voters approved $1.5 million for a new irrigation system at Ladera, there is a design on paper but construction won't happen until the fall — two years after voters said basically "Fix Ladera."
Why this irrigation project is taking so long is a mystery to both us and most members of the city Golf Advisory Board, a panel of local golfers tasked with looking over the shoulder of the Parks and Recreation Department,  the agency responsible for the current health of municipal golf in Albuquerque.
For our coverage of Ladera's woes in Sun Country Golf before the maagazine ceased publication, click here.
In the interim, Ladera remains the poster child for poor maintenance practices and water waste, while Ladera's concessionaires struggle to keep people engaged despite dog-eared fairways, patchy greens and an abundance of weeds and hardpan.
All of which makes one wonder about the pitiful superficiality of news coverage like this report from KOAT-TV back in December quoting city officials about a decline in golf revenues. It doesn't take a genius to add it up: Crappy maintenance and record cold temperatures mean fewer rounds, even on the golf-starved West Side.
Ladera Footnote One: It would appear that as part of the proposed solution to Ladera's maintenance issues, someone has decided to reduce the size of the greens, based on spray-painted markings on the greens' perimeters.
Ladera Footnote Two: A bright spot is the Ladera Golf Boot Camp, taught by Wright Zimmerly, Sam's son and an assistant UNM golf coach. It's refreshing to see a gang of kids of all shapes, ages and sizes on Ladera's range. For details on the camp for your kid, call (505) 836-4449.
UNM Championship Golf Course: The UNM Board of Regents will likely decide the UNM Championship Golf Course's fate on April 12, based on recommendations by the administration due to the regents by April 11.
The administration was tasked by Regents President Jack Fortner last month with finding more cuts to soften the tuition 5 to 8 percent hike in the pipeline.
Does anyone on the UNM Board of Regents see the irony here?
They propose closing a golf course that serves up 30,000 rounds a year and regularly hosts tourism-boosting, national-level golf events, while agreeing earlier this year to build a new baseball stadium for a 9-20 UNM baseball team that complains its fans are dwarfed by the 11,000-seat Isotopes Park.
Translation: We don't draw enough fans, so build us a new ballpark.
Last word was there was still hope for the golf course's future as INM sat down again to re-sharpen their pencils. The UNM golf course's oft-quoted $4 million deficit, by the way, is an accounting device that spans more than 40 years of golf operations.
The accumulated deficit since 1967 (including UNM's administrative charge) remained at about $3 million until recently when it was exacerbated by a series of major infrastructure costs incurred in 2008 and 2009. For earlier coverage, click here.
New Sun Country PGA tournament chief: Santa Ana Assistant Professional Mark Swanson has been named the new Sun Country Golf House tournament director, replacing John Speary, who retired last fall.
Speary will remain involved with the amateur side of the combined amateur/PGA professional operation in updating of course ratings and slopes for the region's golf courses this summer, he said.
Standing up for your instructor: Former San Diego Padre player Kevin Mitchell was sentenced to three years on probation for roughing up a guy at a San Diego golf course.
Evidence showed Mitchell punched and slapped the victim and told him he was "an old-fashioned gangster" with a gun in his bag who wasn't afraid to use it, according to the San Diego NBC station. More.
The assault occurred after Mitchell heard the victim badmouthing the golf instructor both men had been taking lessons from. A week after overhearing the criticism, Mitchell confronted the man on the course and the assault ensued.
Golfer breaks ice, saves dog: A Bucksport, Me., woman crawled onto a frozen pond to save her dog who fell through the ice, WABI-TV reported.
Fighting slow play: Angel Park Golf Course in Las Vegas, Nev., has created an "Express Lane" reservations system on Saturdays for golfers who commit to finishing under three hours and 45 minutes. Players are reminded of their commitment at several stages of the check-in process. More.
GolfWeek/HP Collaboration: Golfweek and HP will create and distribute exclusive specialty Golfweek publications via HP MagCloud, a content publishing Web service from HP. First off the tee: Masters-related offerings, including a 2011 Masters Preview, a series of limited-edition photo magazines and an interactive fantasy golf game. More.
Flogton Update: The relaxed-rules version of golf, ("Not Golf" Backwards) that lets players hit mulligans, drop when they lose balls and toss balls out of bunkers is gaining traction, the National Golf Foundation reports, citing YouTube videos. The variant is aimed at keeping seniors in the game and recruiting kids — for whom strict adherence to the rules maks the game a tough sell. More.
Rounds Down: Winter's big chill and its aftermath, awful, high winds, helped depress rounds in New Mexico in February by more than 2 percent from the previous February. Only Washington and Oregon saw similarly large declines, the NGF reported. The rest of the Sunbelt  saw upticks of more than 2 percent — save for Arizona, which remained roughly on par from February 2010.
Babes of the Masters: Those chauvinist hounds at the Bleacher Report are generally shameless, but this slideshow of the woman behind the stars at the 2011 Masters is worth a look. More.
More Masters: To preserve the sanctity of Augusta National Golf Club, PGA and European Tour pros used to tweeting their way through clubs elsewhere are being told by the guys in green jackets to knock it off during Masters week. We can only assume the Pinkertons will be policing Twitter looking for infractions.