(ALBUQUERQUE, N.M.) April 8, 2011 — Opinion/analysis: Does it bother you that a monopoly involving the Golf Channel, Comcast, Golf Now and NBC Sports has mushroomed under our very eyes?
If it doesn't it should.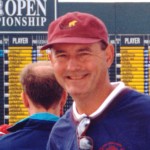 CBS, which has broadcast The Masters exclusively for 56 years, this week faces criticism for not sharing the "Tournament like No Other."
Michael Hiestand in an "Open Mikes" column face-off in USA Today, suggests coverage of The Masters should rotate among various broadcasters like the Super Bowl or World Series.
Although on the one hand, Hiestand lauds CBS for its coverage, on the other he hints it has grown stale:
"As CBS airs its 56th consecutive Masters' weekend coverage, nobody is saying it needs to be fixed.
"But viewers lose when only one network has had a marquee event such as The Masters since President Eisenhower was running for re-election against Adlai Stevenson," Hiestand wrote.
The biggest digs at CBS's Masters coverage are more than 25 years old — that the network kowtowed to Augusta National when it ditched Gary McCord for his "bikini wax" comment on green speeds in 1986 and Jack Whittaker in 1966 for referring to Masters patrons as "a mob."
(The rest of McCord's 1986 comment, by the way, was that body bags were stashed behind the 17th green for players who missed their approach shots.)
A likely beneficiary of a call for another foot in the door at Augusta would be Comcast/NBC, which merged in a $30 billion deal approved by the Federal Communications Commission.
That was big for TV. But even bigger (for golf) is what came before:
Comcast owns the Golf Channel, which reaches 82 million homes. It also owns GolfNow.com, which books discounted tee times for 2,700 of 15,890 U.S. golf courses and has more than 1 million registered users.
Comcast also owns the Golf Channel Amateur Tour, which is challenging local golf associations (including here in New Mexico) for amateur play. And it owns the Golf Channel Travel Network, a collection of 60 websites, 500 golf and travel domains and 40,000 pages of golf travel information.
If you watched The Golf Channel in its early days, it was basically a home-shopping network. In some ways, it remains so, despite prime-time glitz.
Here's what Golf Channel's marketing arm says about its mission:
"GolfChannelSolutions.com identifies and aggregates the people who golf courses and marketers want to do business with, wherever they're watching, surfing or traveling to play the game," said Gene Pizzolato, chief operating officer, Golf Channel New Media Ventures.
Eventually, Comcast's hegemony will move from programming and tee times to equipment. And Dick's Sporting Goods and the like may find themselves shifted from anchor advertisers to the next industry segment targeted for assimilation by the growing Golf Industrial/Media Complex.
— Dan Vukelich
Elsewhere …
Wall Street and Augusta: Here are 13 tycoons who belong to Augusta National, Business Insider reports.
In the same issue, the Insider reports the craziest rules of membership at Augusta, including no membership applications, only nominations by other members.
Microsoft's Bill Gates was shunned for years for openly lusting after an Augusta membership. He wasn't let in until 2002. The only way he found out he'd been accepted was when a bill for his dues showed up in the mail, the Wall Street Journal reported at the time.