'Shark Experience' Comes to Twin Warriors
Topgolf-like Entertainment a Bid to Attract Younger Players
Twin Warriors Golf Club is the first in New Mexico to offer its players "The Shark Experience," a golf cart offering music, TV and the ability to pair a player's phone and its stored music to the golf cart's speakers.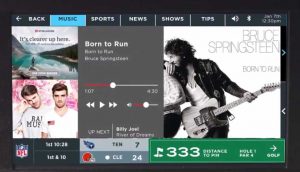 The system is a response to the growing trend among younger golfers to bring music to their games.
The golf course unveiled the new system to New Mexico sports news media last week. The system was developed by Greg Norman, Club Car, Verizon Wireless and GPS Industries.
On the GPS touch screen inside the cart, what was once only an image of a hole's layout and yardage, is now jam-packed with music genres, options for streaming radio, stock market news, and TV programming as diverse as the Food Network and BuzzFeed Entertainment.
There's an on-demand option for paid programming as well as free golf tips from Norman himself. The system also has USB charging ports.
The Shark Experience also offers live and prerecorded basketball, football, tennis and soccer programming, as well as news from ESPN, Yahoo! Sports, 120 Sports and BeIn Sports. Thirty PGA Tour events via PGA Tour Live and NBC Sports will be available this year.
Oh, and there's still GPS yardages, plus hole flyovers and an electronic scorekeeping options, as well as the ability to pre-order food at the turn.
"Golfers have had little bits and pieces of this available to them with their iPhone, earbuds and Bluetooth speakers. Now it's all integrated into one," Norman told Golf magazine last October. "They now have all of this technology brought into one place, in a golf cart."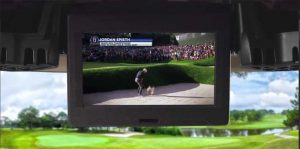 Derek Gutierrez, director of golf at Twin Warriors and Santa Ana golf clubs, said the system offers something of the multimedia golf entertainment experience that may attract Millennials who have been slow to warm to golf but have embraced the total entertainment experience offered by Topgolf, a golf-themed entertainment venue that is rapidly spreading around the country and the world.
Evidence of the attraction came just last month with the debut of a new Golf Channel reality show, "Shotmakers."
The competition, which takes place at Topgolf Las Vegas, had 1.2 million viewers during its two-night premiere April 9-10. Golf Channel reported that the premiere also marked the youngest primetime audience for a premiere on the cable network since 2016, with more than 50 percent of the audience between the ages of 25-54, according to data released by the Nielsen Company.
The "Shotmakers" competition utilizes Toptracer by Topgolf, the same technology used on PGA TOUR televised broadcasts that immediately shows competitors their ball's flight, speed, distance and curve on screens. It provides immediate feedback at hitting stations at Topgolf facilities. Topgolf recently announced it planned an Albuquerque facility next year..

A notable advocate of sound during his round is Sun Country PGA Professional Mark Swanson, director of operations at Cochiti Golf Club. Swanson has been bringing music to the golf course for years, since his days as tournament director for the Sun Country Amateur Golf Association, when he would spend hours alone in a cart marking courses in advance of amateur competitions.
Another advocate is former GolfWeek writer Jeff Rude, who favors the Beatles during a round. He typically asks playing partners if they object to his music and says he has yet to receive a negative response.
Dan Vukelich, editor of New Mexico Golf News, is a member of the Golf Writers Association of America and the Golf Travel Writers of America. Reach him at dan@newmexicogolfnews.com