Major Expansion Accompanies Move from Florida
In late December, the PGA of America announced it will be moving its headquarters from Palm Beach Gardens, Fla., to Frisco, Texas. That's a huge deal, since the projected new headquarters is a half-billion dollar project that will include 45 golf holes, a 500-room Omni resort and a 127,000-square-foot conference center, among other things.
While that may well be the biggest news splash of 2018 for golfers wanting to travel, there's more to the announcement than that.
The PGA of America has deep roots in Florida, and that won't change. Palm Beach Gardens has been the PGA's base for more than 50 years. The PGA has operated out of a two-building complex adjacent to the PGA National Resort — annual site of the PGA Tour's Honda Classic — since 1981.
While the PGA does not own PGA National it does own and operate PGA Golf Club, a three-course resort located in PGA Village about 40 miles to the north, in Port St. Lucie. The PGA will continue to operate it regardless of what goes on in Texas, so the Sunshine State won't be losing much.
What's the Impact of the PGA Move?
The bottom line is that the PGA isn't completely leaving Florida – not by a long shot. Construction hasn't even started in Frisco, and the actual move to Texas won't come until the fall of 2021, at the earliest.
Even after construction in Texas is finished, the PGA plans to keep about 100 of its 220 employees in Florida working in a refurbished facility built where the current headquarters stands. Those who will move to Texas won't do so until June of 2022.
The Frisco project aside, Florida will retain its prominence in golf with the PGA Tour still based in Ponte Vedra, the LPGA Tour in Daytona Beach and the huge PGA Merchandise Show in Orlando. There already has been a major personnel change within the PGA of America hierarchy related to the move to Texas, however.
PGA of America Promotes Jimmy Terry
Jimmy Terry, general manager of the PGA Golf Club for the last five years, is taking on an expanded role as Senior Director of PGA Golf Properties. He'll now oversee three golf facilities instead of just one.
Terry will play a significant role in guiding the development of the Texas facility and also steer the operation at Valhalla, the PGA's flagship private facility in Kentucky that has hosted six major championships since its opening in 1986 and is slated to host the PGA Championship in 2024.
Jeremy Wiernasz, who has assumed general manager duties at PGA Golf Club, will report to Terry. Wiernasz will also retain the director of golf duties he has handled at PGA Golf Club since 2013.
News from Myrtle Beach
Charlie Rymer, a fixture on The Golf Channel for the past 11 years, has joined the Golf Tourism Solutions team in a multi-media partnership that will spotlight the Myrtle Beach golf scene. Golf Tourism Solutions is a company that has the assets of a media outlet, including one of the game's largest email databases, a print magazine and more than 200,000 social media followers.
Myrtle Beach has long been on the cutting edge of destination marketing, and Rymer – a South Carolina Golf Hall of Fame inductee – will play a lead role in that continuing effort.
"I feel like I'm coming home,'' Rymer said. "At this point in my golf career I want to do things I'm passionate about, and Myrtle Beach is a great fit. Myrtle Beach wants to open the game up to as many people as possible, and that's what motivates me.''
Tidbits from Florida
Kissimmee Bay Country Club, a Lloyd Clifton design that opened in the Orlando area 28 years ago, has re-opened after a complete renovation of the greens complexes. The facility had been closed for three months.
PGA Tour Champions will again open its season at Broken Sound, in Boca Raton, with its first full-field event Feb. 4-10, but the tourney will have a new title sponsor. It'll be called the Oasis Championship thanks to new sponsorship from Oasis Outsourcing, the nation's largest privately-held professional employer organization.
A judge has ordered the Ocean Links Course at Omni Amelia Island Resort to be restored. Resort operators had begun bulldozing the course, which has five ocean views, in an effort to convert it into a park.
ClubLife Management, sponsored by ClubCorp, has taken over the management of Boca Lago Country Club in Boca Raton. The 27-hole private facility is undergoing a $3.6 million renovation of its clubhouse and that follows a just-completed renovation of the course by Jan Bel Jan Golf Course Design and superintendent George Redshaw.
Here and There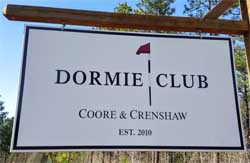 The Nebraska-based Dormie Network has added a fifth club to its portfolio. Victoria National, the Indiana course that has hosted the Web.com Tour, joined a group that includes Dormie Club, in Pinehurst, N.C.; Briggs Ranch, in San Antonio, TX; Arbor Links, in Nebraska City, Neb.; and Ballyhawk, in Roanoke, Va.
Smart Golf & Fitness has broken ground on a new indoor facility in Chicago's Lincoln Park area. The two-level 11,000 square foot facility is expected to open in early 2019.
Architect Todd Eckenrode has announced the opening of Twin Dolphin in Los Cabos, Mexico. The layout is the first Fred Couples Signature Course in that area.
Sanctuary Cap Cana has re-opened in the Dominican Republic following a renovation. It's located near the Corales Puntacana Resort, which hosts a PGA Tour stop from March 28-31.
CourseCo, a golf course management company with properties in California, Oregon, Washington and Texas, has been selected to receive the President's Award for Environmental Stewardship by the Golf Course Superintendents Association of America board of directors.
The writer is Len Ziehm, a 41-year veteran of the Chicago Sun-Times sports staff who covered professional golf, hockey and football. He covered 27 U.S. Opens, 11 Masters, 17 PGA Championships and four U.S. Women's Opens. He's a member of the Golf Writers Association of America and the Golf Travel Writers of America. He runs Len Ziehm on Golf, where this article first appeared.