(MURCIA, SPAIN) Jan. 20, 2011 — Former Lobo golfer Jodi Ewart won the Q School event to gain full status on the 2012 Ladies European Tour. She had already won full status on LPGA Tour.
Ewart claimed first place in the Euro qualifier on Thursday in Murcia, Spain, finishing five rounds on the La Manga North and South courses at 11-under, edging Swiss amateur Anais Maggetti by two shots. Ewart, 24, held the top spot for the final four rounds.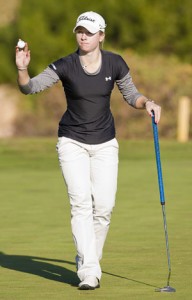 "I mean, fourth on the LPGA and now winning the LET; it's a pretty good off-season if you ask me," the Yorkshire, England, native said. "It feels good and I'm really looking forward to this year."
Ewart heads home to Florida before beginning her inaugural LPGA Tour season Feb. 9, at the ISPS Handa Women's Australian Open in Victoria, Australia.
The interview below was shot by us as she finished her Lobo golf career.
— Dan Vukelich