Firm, Dry Shinnecock Greens Deal a Harsh Blow
Calum Hill Drops 11 Strokes, Shoots 81 on Saturday
Scotsman's Sunday Ends with a 3-over 73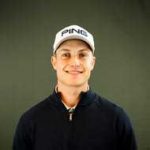 The bid by Calum Hill for a top-ten finish in the 118th U.S. Open at Shinnecock Hills Golf Club crashed to earth thanks to a third-round score that sent him from T14 to T58 and a Sunday round that just never came together despite better playing conditions.
Hill finished the tournament at 18-over. When all scores are finally posted, he'll be able to take comfort that there will be at last five players below him on the leaderboard and dozens of big names who did not get to play the weekend.
Firming of Shinnecock's domed greens Saturday afternoon sent everyone except two of the four co-leaders backwards as balls that missed the ideal landing spot by a foot or two trickled into bunkers or rolled tens of yards back down the fairway.
On No. 14, Phil Mickelson ran after and putted a moving ball that was headed off the green. He was hit with a 2-stroke penalty that resulted in a 10 on the hole, although the 10- to 12-footer he swatted nearly went in for 9.
Reaction in the media to Mickelson's rule breach was outrage that a player of his stature would disrespect the national championship in such a blatant manner. Some in the media suggested he should have been disqualified.
Mickelson wasn't alone in his frustration with the condition of Shinneock on Saturday. Some of the best players in the world, many of them veterans of harsh U.S. Open conditions, castigated the USGA not only for the super-dry greens but for punitive pin positions that led so many balls to roll off the green.
A sign of how dry and firm the greens were was seen in shots of grounds crew spraying water on them immediately after the final group walked off each green of the iconic 127-year-old course in Southampton, N.Y. It was Shinnecock that the USGA nearly killed in at the 2004 U.S. Open when late in the final round Mickelson three-putted from five feet.
An analysis of the scores of the entire field on Day 2 showed the expected pattern of a mix of birdies, bogies and doubles on the front nine but nothing but a relentless parade of bogies and doubles and almost no birdies in the afternoon.
TV replay after replay of play on the back nine showed balls landing well onto the putting surface then trickling backwards or drifting sideways into trouble.
Co-leader Tony Finau was a notable exception to the rule Saturday with two birdies and two bogies on the front and a bogey-free 4-under on the back. Another co-leader, Daniel Berger, paired three birdies and two bogies on the front to make the turn at 1-under. Berger then matched that on the back, plus an extra birdie. Both players shot 4-under 66 for the day.
Finau was set to tee off with Berger in the final pairing at 12:24 p.m. MDT.
The other two co-leaders, Brooks Koepka who gave up 2 strokes on Saturday, World No.-1-ranked Dustin Johnson, who gave up 7 shots, are in the next-to-last group, set to tee off at 12:13 MDT.
Despite the USGA's decision to soften up the greens and place some pins in more benign locations, Hill and many others could not take advantage. By midday, only Only Rickie  Fowler had managed to surge up the leaderboard with a tournament-low 65.
Calum Hill, a native of Kinross, Scotland and a recent graduate of Western New Mexico University in Silver City, suffered the same nasty backward slide as the rest of the field – but in spades.
As he did earlier in the tournament, Hill managed to mostly bounce back on the front on Saturday, pairing two bogies with two birdies early before suffering a double bogey on No. 9 to walk off the front nine 2-over. But a birdie-free back nine plagued by three doubles and two bogies left him 8-over on that side alone and 11-over for the day.
Calum Hill played the front nine 3-over on Sunday, but rallied gamely to play the back nine at even par. He finished four days of play on th par-70 Shinneck at 298 (75-69-81-73).
Hill had hoped for a top-ten finish before heading home to Scotland to attempt to qualify for the European Tour.
While at WNMU, he became the school's all-time scoring leader. While in New Mexico, he joined the Sun Country PGA Section and competed in section events. He won the 2017 Arizona Open.
Hill was in New York with his coach and boss at WNMU Golf Coach Kent Beatty and his caddie, former WNMU teammate Harry Wetton of Bedford, England.
Dan Vukelich, editor of New Mexico Golf News, is a member of the Golf Writers Association of America and the Golf Travel Writers of America. Reach him at dan@newmexicogolfnews.com